Latif Karimov's personal items donated to History Museum [PHOTO]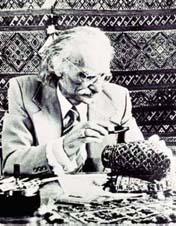 By Laman Ismayilova
Personal belongings of the People's Artist of Azerbaijan, Latif Karimov were donated to the National History Museum of the Azerbaijan National Academy of Sciences (ANAS).
Karimov's grandson Azer Safarov donated the great artist's personal items to the Museum. They will be stored in the Museum's Fund of gifts and memorabilia.
Latif Karimov, the eminent carpet master and scholar, had meticulously researched the history of Azerbaijani carpets and systematized 144 styles based on geographical regions (cities, towns, villages).
He was true protector of the national art and used to conduct courses on carpet weaving to introduce Iranian techniques that were not known to the Karabakh weavers. For students who were illiterate and could not take notes, he even composed goshmas (poetic genre) to get them to remember weaving procedures.
In addition to carpets, Karimov successfully designed jewelry, wood carvings, china and fabric patterns, as well as interior decoration patterns for buildings.
Genius designer wrote a number of books classifying and describing various designs of majestic Azerbaijani rugs.
He, together with Rustam Mustafayev, was hired to design the Azerbaijani hall of the All-Union Agricultural Exhibition.
In 1945 he was appointed head of the Department of Fine Arts at the National Academy of Sciences of Azerbaijan Institute of the Arts. Between 1947 and 1977 he compiled the Dictionary of Oriental Music. In 1950 he received the Stalin Prize, the highest ranking award in the Soviet Union.
In 1954, Karimov organized his first personal exhibition which featured carpets, architectural ornaments, wood carvings, china vases, jewelry, and graphic items.
His efforts and enthusiasm led to the establishment of the Azerbaijan Carpet Museum in 1967, first one of this kind in the world.
The Azerbaijan Carpet Museum was named in his honor in 1991.
--
Follow us on Twitter @AzerNewsAz