3 December 2014 14:58 (UTC+04:00)
1 284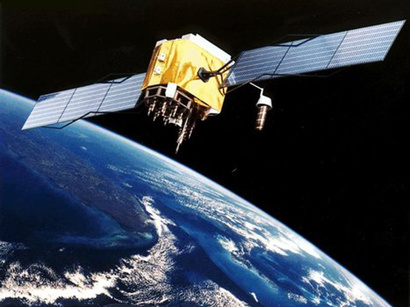 By Nigar Orujova
Azerbaijan and Turkey are discussing ways to jointly produce satellites, Turkish Minister of Science, Technology and Industry Fikri Isik told reporters in Baku on December 3.
"To this end, some necessary studies would be carried out," he said. "We believe that new projects in this area can be implemented through joint efforts."
Isik congratulated Azerbaijan on the second satellite launch and the country's achievements in this area.
Azerbaijan has obtained control over SPOT 7 low-orbit satellite, placed in orbit in June 2014, as part of the strategic cooperation between Azerbaijan and France in the space industry.
The satellite, named as Azersky, was launched to reinforce Azerbaijan's control on the basis of an agreement signed between Azerbaijan's Space Agency Azercosmos and France's Airbus Defence and Space as part of the Bakutel-2014 exhibition on December 2.
The SPOT 7 high resolution (1.5m imagery products) optical Earth observation satellite was successfully launched on a PSLV Indian launcher on June 30. It has been designed to survive harmful space conditions for at least 12 years.
The long-term strategic cooperation between two parties also includes joint operations of Azersky of Azercosmos and the SPOT 6 high-resolution (1.5m imagery products) optical Earth observation satellite of Airbus Defence and Space in a constellation to provide superior service.
Moreover, the ground segment to be constructed will allow Azercosmos to access images acquired from Pleiades 1A and 1B, very high-resolution (0.5m imagery products) optical Earth observation satellites commercialized by Airbus Defence and Space.
This satellite constellation opens up new opportunities for many applications, providing the latest images within an unprecedented time frame. The combined acquisition capacity of Azersky and SPOT 6 is equal to six million square kilometers per day – an area ten times the size of France.
This means that every day, every point on the globe can be viewed in high-resolution by the Azersky and SPOT 6 satellites.
Azersky has a broad range of applications including defense and security, emergency response, exploration of natural resources, maritime surveillance, sea faring, environmental protection, urban planning, cartography, agriculture, and tourism.
Azerbaijan entered the space club by launching its first telecommunication satellite Azerspace-1 in February 2013. Azercosmos is the first satellite operator in the Caucasus.
Azerspace is broadcasting over 80 TV and radio channels including Georgian, Turkish, Ukrainian, and South African TV channels to its customers in Europe, Africa, Middle East, the Caucasus, and Central Asia.
The satellite which will operate in the orbit for at least 15 years was launched in February 2013 and is equipped with 36 transponders: 24 in C-band and 12 in Ku-band at 46° East longitude.
Strategic development plans of the company include launch of the second telecommunications satellite and establishment of commercial business of Earth observation services in upcoming years.
Related News