Azerbaijani energy minister discusses green energy projects in Germany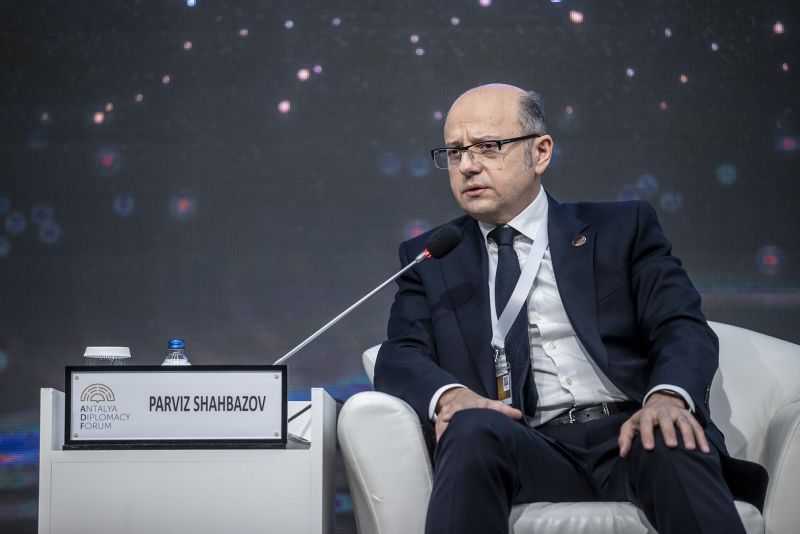 Azerbaijani Energy Minister Parviz Shahbazov held a number of bilateral meetings on the fringes of the Berlin Energy Transition Dialogue conference in Germany, Azernews reports, citing the Energy Ministry.
In the meeting with German State Secretary of the Federal Ministry for Economic Affairs and Climate Action Anja Hajduk, it was noted that the realities of energy security make it urgent to increase the transmission capacity of the Southern Gas Corridor, and the development of the project is supported within the framework of the renewed strategic energy partnership with the European Union.
The importance of accelerating the processes related to the expansion of the corridor until 2027 and strengthening the efforts of the interested parties was emphasized. The green energy projects that Azerbaijan will implement with foreign investors until 2030 and the issues of cooperation with Azerbaijan, Georgia, Romania, and Hungary for the transmission of the Caspian Sea wind energy to Europe were considered.
At the meeting with Jacob Blitshtein, the director-general of the Israeli Energy Ministry, views were exchanged on the development plans of both countries regarding the production and export of natural gas and green energy to Europe. The meeting discussed priority directions for the development of energy cooperation with Azerbaijan, which has a significant position in Israel's oil imports. The Azerbaijani energy minister invited Israeli companies specializing in environmentally friendly energy technologies to cooperate with Azerbaijan.
Parviz Shahbazov had also a meeting with Moldavian Deputy Energy Minister Carolina Novac. The meeting discussed the prospects for energy cooperation between the two countries and issues of energy dialogue with the EU.
Besides the meetings with state officials, Azerbaijan Energy Minister Parviz Shahbazov also held meetings with representatives of various companies.
In the meeting with Michael Hilmer, Vice President of Uniper company, the sides exchanged views on issues of cooperation in gas supplies, energy efficiency, and renewable energy sectors. Parviz Shahbazov expressed satisfaction with the existing cooperative relations with the company. It was noted that Uniper, one of the main buyers of Azerbaijani gas until 2045, is interested in expanding the Southern Gas Corridor and increasing gas supply through this route, as well as cooperation on green energy and green hydrogen.
Minister Parviz Shahbazov also met with Ariel Porat, senior vice president of Siemens Energy. The gas-turbine power plant project with an installed capacity of 500 MW, which is planned to be built in the Yashma area, and the possibilities of cooperation in the transfer of green electricity produced in Azerbaijan to Europe were discussed.
---
Follow us on Twitter @AzerNewsAz