26 May 2017 12:00 (UTC+04:00)
2 348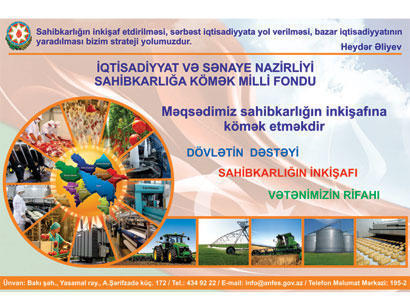 By Sara Israfilbayova
The National Fund for Entrepreneurship Support (NFES) under the Economy Ministry of Azerbaijan has granted concessional loans worth 36.2 million manats ($21.3 million) to local entrepreneurs since early 2017.
The funds will be directed for realization of about 360 projects, said Shirzad Abdullayev, the NFES Executive Director, addressing a business forum in Bakikhanov settlement in Baku.
As of today, businessmen of Baku and its settlements received preferential loans in the amount of 377.6 million manats ($221.8 million). These funds were used to implement 1,345 projects, he added.
The Fund issued soft loans worth 9.8 million manats ($5.7 million) during the business forum in Bakikhanov t. These funds will be used to develop the production of building materials, kitchen and household accessories, the creation of a greenhouse complex, the development of poultry and livestock and other areas.
Some 150 million manats ($88.1 million) will be issued for granting preferential loans to entrepreneurs in 2017.
The Fund was established in 1992. The main task of the Fund is to provide lax credits from the state budget for entrepreneurship, including small and medium business. Loans are being issued to entrepreneurs through authorized banks and non-bank lenders.
Allocation of funds by NFES is aimed at the mitigating of the impact of global economic crisis to the national economy and minimization of its dependence on the oil sector. The state is eager to diversify the national economy and provide for the development of entrepreneurship in the country.
---
Follow us on Twitter @AzerNewsAz