16 May 2017 17:08 (UTC+04:00)
5 656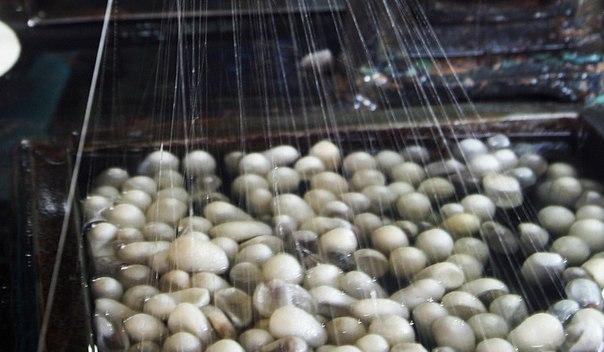 By Sara Israfilbayova
Azerbaijan's Deputy Agriculture Minister Ilham Guliyev announced that a three-fold increase is expected in silk production in the country by late 2017.
Guliyev, addressing a press conference dedicated to the opening of the 23rd Azerbaijan International Food Industry Exhibition, said that currently, agricultural production in Azerbaijan is rapidly growing.
The biggest growth is observed in cotton growing, sericulture, tobacco growing, grain production and other sectors of agriculture, according to him.
Azerbaijan produced only 236 kilograms of silk, while in 2016 this figure amounted to 71 tons, Guliyev said, adding that according to estimates, the volume of silk production in 2017 will increase by 2-3 times.
"The cocoons imported to the country were distributed among 3,013 producers, living in 739 villages in 31regions of the country," Guliyev said. "This will allow to improve material state of more than 3,000 families. If on average each family will harvest 200-300 kilograms of silk, then in total the monthly earnings of one family will amount to 1800-2700 manats."
This, as Guliyev said, also applies to the field of cotton growing, tobacco growing, and other areas of agriculture.
In late 2016, President Ilham Aliyev ordered on state support of silk manufacturing. Under the Order, the producers are subsidized for each kilogram of cocoons taken by the enterprises on processing cocoons and silk production.
The history of sericulture in Azerbaijan dates back to almost fifteen hundred years and has very rich history.
When it comes to silk in Azerbaijan, the first place that comes to mind is ancient city of Sheki, which once considered the largest center for the production of silk and silk farming in the Middle Ages. Delicate fabrics, beautiful clothes, and colorful kelagayis (silk headscarf) manufactured by Sheki craftsmen from raw silk, were exported to foreign countries, so the city became famous for its silk throughout the world.
In the Soviet period, Azerbaijan ranked second after Uzbekistan for the production of silk cocoon, but was considered first in fiber quality. The country annually produced 7,800 tons of raw cocoons in 1960-1970.
--
Follow us on Twitter @AzerNewsAz