SOFAZ reveals economic indices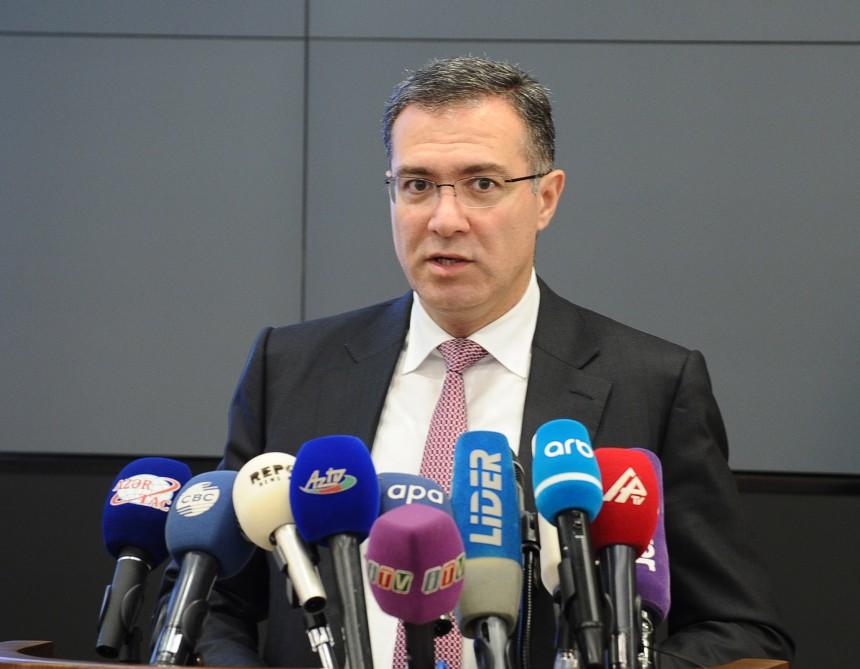 By Nigar Abbasova
Azerbaijan's state oil fund SOFAZ, which accumulates and manages the energy-rich country's oil and gas revenues, has managed to derive profit and raise its revenues by benefiting from the currency exchange rate differences.
Year to date, the Fund gained some 2.5 billion manats ($ 1.56 billion) [non-budget gains], due to differences in the currency rates.
Fund's CEO Shahmar Movsumov, speaking at a press conference on October 12, said that SOFAZ assets increased by 6.7 percent compared to early 2016, and amounted to $35.82 billion, mentioning that profit and expenditures of the Fund stood at 6.62 billion manats ($ 4.13 billion) and 3.82 billion manats ($ 2.38 billion), respectively.
Profit from the realization of oil and gas contracts hit 5.88 billion manats ($ 3.67 billion).
Movsumov also said that profit of SOFAZ from the management of its own resources amounted to 734.8 billion manats ($ 459.65 billion) in the reported period.
Assets of the Fund as of October 1 stood at $35.82 billion, with some $33.95 billion accounting for the investment portfolio and 1.87 billion falling to a share of manat account. The Fund plans to increase its assets by $1 billion in 2017.
Movsumov further said that the existence of manat [national currency] in the assets is a temporary phenomenon, which is mainly connected with conversion operations that are needed to generate transfers to the budget.
He clarified that the reason of appearance of manat reserves is the low need for manat reserves in the state budget, adding that the financial means will be transferred to the budget till late 2016.
The volume of transfers of the Fund to the budget amounted to 3.26 billion manats ($ 2.03 billion).
SOFAZ's transfers to the 2016 budget are forecasted to stand at 7.6 billion manats ($4.6 billion), while the index for 2017 is forecasted at 6.1 billion manat ($3.7 billion).
A balanced budget, with oil prices standing at $40 per barrel taken as a basis, will also be effective in 2017.
Moreover, dividends of SOFAZ, from Russia's VTB Bank amounted to $25 million. The Fund is a shareholder in the Bank with a share of 2.95 percent.
Commenting on the influence of sanctions on the value of VTB shares, Movsumov said that despite the fact that sanctions led to a decline in revenues, experts predict that the shares will rise in price by 25 percent after the sanctions are lifted, adding that SOFAZ is a long-term investor, therefore it is not intended to sell its stake in VTB.
Movsumov also spoke about deposit volume in International Bank of Azerbaijan, saying that the Fund does not plan to increase deposit volume in IBA or to place deposits in other banks.
SOFAZ can place up to 5 percent of total amount of assets in domestic market. The fund has placed a deposit of $1 billion in the IBA, which means that the fund is able to place up to $500 million more.
--
Nigar Abbasova is AzerNews' staff journalist, follow her on Twitter: @nigyar_abbasova
Follow us on Twitter @AzerNewsAz