Baku 2015 contributes to tourist flow in Azerbaijan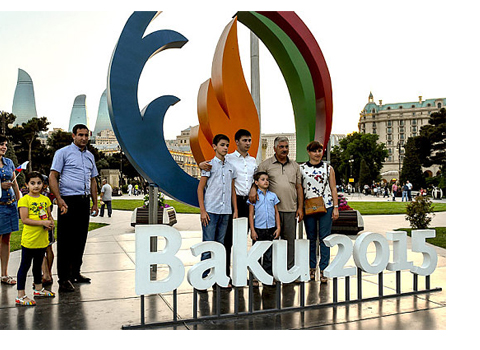 By Nigar Orujova
The first European Games have significantly contributed to the development of the tourism sector in Azerbaijan, the Tourism Ministry said.
Ministry official Vugar Shikhamedov said the inaugural Games in Baku have been the biggest promotion for Azerbaijan's tourism industry thus far.
"The opening ceremony of the European Games was broadcasted in 93 countries, it was watched by over one billion people," he noted.
He said that 33 million people received information about Azerbaijan through Google searches in the past year. Approximately 70 percent of the views were made one month before the Baku 2015.
"This statistic speaks for itself. On the other hand, athletes, journalists, and other foreign visitors are also potential tourists. Those who have left and who are still in the country, are very impressed with Azerbaijan, our hospitality, cordiality of people. I believe we will see the successful outcome of all this at the end of the year, when the winter tourist season begins, or the next summer season," said Shikhamedov.
The European Games kicked off in Baku on June 12 and lasted for 17 days. It hosted 20 elite sports, 16 of which were Olympic, while 12 were licensed for the Rio 2016 Olympics. Over 6,000 athletes represented European countries at Baku 2015.
Over 28,000 foreign tourists had visited Azerbaijan during the Games, after the host country eased the visa regime.
The majority of the foreigners who obtained tickets to watch the European Games are citizens of Russia, UK, Germany, the Netherlands, Italy, Switzerland, Spain, the U.S., and the United Arab Emirates.
The beautiful nature of Azerbaijan and its ancient history, along with its mesmerizing art, attracts more tourists each year.
Today, the country can accommodate over 35,000 tourists in its 530 hotels. And the good news is that prices in tourists areas are not expected to increase this year.
Over 2 million tourists came to Azerbaijan last year, which amounted to about one billion manats (over $950,000 million) in revenue from tourism. In the near future, the country is expected to increase its tourist flow up to 5 million a year.
--
Nigar Orujova is AzerNews's staff journalist, follow her on Twitter: @o_nigar
Follow us on Twitter @AzerNewsAz