Armenians stage disobedience rally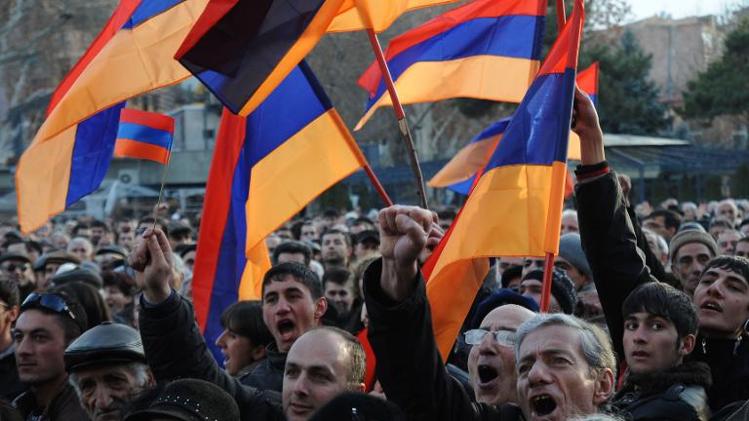 By Jamila Babayeva
The Armenian civil society declared its readiness for disobedience during a protestation rally on January 18.
Armenian Civil Initiative "I protest" with the four opposition parliament fractions held a rally of many thousands in Yerevan's Freedom Square with the slogans "No pocket theft!", "No government inefficiency!", "Deceived people will no longer trust!". Most of the protesters were young people, who are not affected by the new pension system.
The law on the introduction of compulsory accumulative pension system came into force on January 1, 2014. Four opposition parliament fractions appealed to the Constitutional Court considering the law unconstitutional. The court will examine the appeal on January 25 and verdict on the law will be known on March 28.
The January 18 rally clearly mirrored the Armenian civil society's dissatisfaction with President Serzh Sargsyan's governance. Although the rally was social, the demonstrators chanted the political slogans. "Serzhik, go!" slogan could be heard throughout the rally.
The political situation in the country will inevitably sharpen unless the Constitutional Court does not recognize the law as unconstitutional. The opponents promised to continue the fight till the victory. They believe general strike to be one of effective steps.
Four opposition parliamentary fractions think that the Constitutional Court will not recognize the pension law as unconstitutional, as the court cannot be against the government. Armenian media reported that opposition coalition intends to declare no-confidence to the Armenian government.
The ruling Republican Party in turn believes that the new pension law worries only some segments of the society, and January 18 rally cannot have a snowball effect and turn into a nationwide struggle against the government.
Armenian experts believe that the country entered a quite different stage. They believe that civil society has finally managed to create a movement and a number of political parties joined them.
So, Armenian civil society began to demand an explanation on government's continuing failures - increased gas and electricity prices, new pension law, migration, poverty and unemployment, economy crash, investments reduction and so on. The negative influence of these failures extends the sphere of influence in the country. The small and medium business also begun to suffer from the government's policy - some of them intend to suspend the activity, others will up the price for products due to increased gas and electricity tariffs. These steps will complicate the country's poor economy.
Armenia's government itself gave birth to unstable social-political situation, which is likely to bring to the civil disobedience. The ruling party does not expect this, forgetting the great Indian philosopher Mahatma Gandhi's words...:
"Civil disobedience becomes a sacred duty when the state has become lawless or corrupt."