ANAS: Armenians conduct illegal research in Azerbaijan's Azykh Cave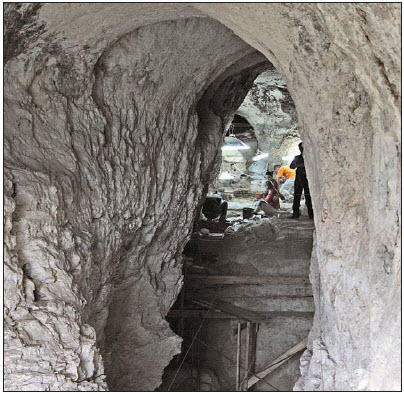 By Rashid Shirinov
The illegal "research" of Armenians in Karabakh, conducted over the past few years, especially in the Azykh Cave, have once again demonstrated the need for a scientific analysis of this site of the Paleolithic period and the artifacts found there as well as bringing them to a broad scientific community.
Isa Habibbayli, Vice-President of the Azerbaijan National Academy of Sciences, made the remarks at a meeting of the Presidium of the Academy on December 20.
He noted that next year marks 50 years since the discovery of the remains of Azykhantrop's lower jawbone in the Azykh Cave by archaeologist Mammadali Huseynov in 1968. The academician added that its study confirmed that Azykhantrop has the age of 400 million years and the Guruchay culture, which entered into scientific circulation, took its well-deserved place in science.
Habibbayli also noted that the artifacts found in recent years in the country's Mingachevir and Gabala regions confirmed the wide distribution area of ​​the Guruchay culture and the relevance of these studies in the modern era.
The jaw bone found in the Azykh Cave is one of the oldest proto-human remains found in this part of the world. Archaeological samples found in Azykh Paleolithic camp were shown at the Paris Museum's exhibition "The first inhabitants of Europe" in 1981.
As a result of the Nagorno-Karabakh war in early 1990s, Armenian aggressors occupied 20 percent of Azerbaijani lands, including the Nagorno-Karabakh and seven surrounding regions. Due to this, a large number of ancient Azerbaijani man-made and natural historical monuments, including the Azykh and Taghlar Caves in Fuzuli region, are currently under Armenian occupation. Both caves as well as other ancient monuments were partially or completely destroyed by Armenians.
Armenians also attract foreign researchers in their illegal investigation in the Azykh Cave. A group of English and Spanish researchers, misled by Armenians, was carrying out excavations and transporting archaeological artifacts from the cave since 2002, thus violating the territorial integrity and laws of Azerbaijan. By their illegal activities, they also violated the UNESCO Hague Convention for the Protection of Cultural Property in the Event of Armed Conflict.
---
Rashid Shirinov is AzerNews' staff journalist, follow him on Twitter: @RashidShirinov
Follow us on Twitter @AzerNewsAz