14 November 2017 16:34 (UTC+04:00)
5 842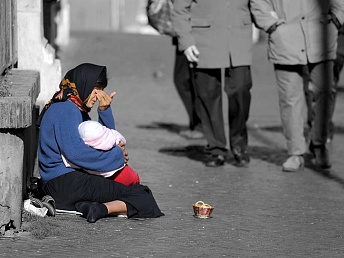 By Rashid Shirinov
The sick economy of Armenia and the unsuccessful economic policy of the government, as well as social problems resulted in a deplorable fact – almost every third citizen of this South Caucasus country is poor.
The latest official statistics say that the poverty rate in Armenia is 29.8 percent. The total number of poor people amounts to 900,000, and 310,000 of them are very poor, while 60,000 people are extremely poor. Given that the official statistics of Armenia often have wrong data on the problems of the country, the number of poor is perhaps even greater.
Meanwhile, the situation with poverty in Armenia can deteriorate in near future, as chairman of the Republican Union of Employers of Armenia Gagik Makaryan noted last week.
"The poverty rate in Armenia can rise next year, not to mention decreasing," he said at a press conference on November 10.
He added that the economic growth of 4.5 percent set in the state budget for 2018 by the Armenian government will not have a real impact on society, as it will be canceled out by various factors, such as the high dollar and euro exchange rates or rising prices for food.
Makaryan pointed out that for a real fight against poverty and unemployment in Armenia it is necessary to create 100,000 workplaces within the next 2-3 years.
"Now we are talking about 20,000 a year, that is, we will reach the level of 100,000 jobs only after 5 years," added the chairman.
The report by Armenia's National Statistical Service in 2015 noted that after the global economic crisis the level of the poorest in Armenia remained the same or regressed, while the richest have become even richer.
Many Armenian children, instead of studying, have to work every day to provide food for their poor families. About 30 percent of working children in Armenia are under 14, statistics say. Obviously, poverty creates obstacles for Armenian children and deprives them of a bright future that the Armenian government constantly promises to the country's population.
The poverty problem has deep roots in Armenia and the authorities are still unable to fix it. Obviously, the country's economy should be restored first in order to achieve the improvement of the quality of live.
Because of the poor economy, many people in Armenia are unemployed. The unemployment rate in the country is highest among the CIS states, making up 19 percent. Therefore, Armenians periodically hold protests demanding to open new jobs, while others can find no other way but to leave the country. The poverty paired with unemployment forces Armenians to commit crimes and even suicides.
---
Rashid Shirinov is AzerNews' staff journalist, follow him on Twitter: @RashidShirinov
Follow us on Twitter @AzerNewsAz
Related News