Armenians dissatisfied with results of elections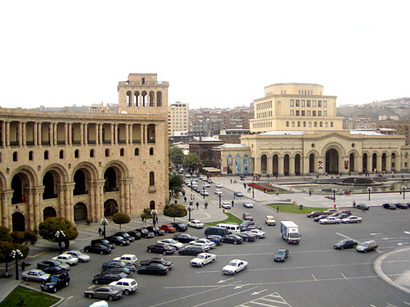 By Rashid Shirinov
Armenian journalists have conducted a survey among Yerevan residents to reveal their position on the results of the April 2 parliamentary elections.
The survey showed that the majority of Yerevan citizens are dissatisfied with results of elections. Many of them, having lost hope for a positive change, are considering leaving the country.
"Everyone wanted a change for the better. I'm unhappy with the situation of the country, something goes wrong. I'm unhappy with the election results, and I haven't chosen the Republican Party," one of the respondents says.
The preliminary results of the elections show that President Serzh Sargsyan's Republican Party leads with 49.12 percent of the vote. A number of Armenian politicians, local and international observers and journalists noted that the parliamentary elections in Armenia had many violations and frauds.
The social networks also showed the opinion of the Armenian population on the election results.
"The votes of the Republican Party were obtained through intimidation with dismissal from work, blackmail, poor financial status and lack of awareness of Armenians," an Armenian resident writes.
"The police, army, civil servants, teachers, preschool teachers, and their relatives – this is a partial list of forced admirers of the thievish Republican Party of Armenia," he noted.
Another Armenian says the situation in the country will never change: "The crooks will always be at the helm of the control, suppression, stealing, beating and expulsion of dissenting ones from Armenia."
Thus, the residents of Armenia are well aware of the fraudulent processes happening in the government of the country. The Armenians understand that for the next five years, the treasury of the country will continue being stolen by the Republican Party and its leader Serzh Sargsyan, and nobody will care about the well-being of ordinary people.
---
Rashid Shirinov is AzerNews' staff journalist, follow him on Twitter: @RashidShirinov
Follow us on Twitter @AzerNewsAz