Pomegranate rubies to feature in Goychay festival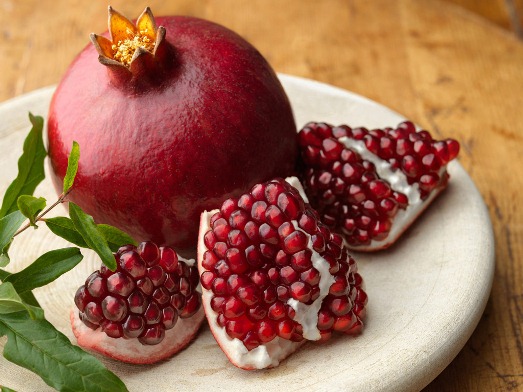 By Amina Nazarli
This year, the Goychay region of Azerbaijan will celebrate the 10th anniversary of one of the country's most loved festivals, the Pomegranate Festival.
The pomegranate has been considered the king of fruits from the earliest centuries in Azerbaijani culture. A symbol of profusion, the pomegranate has been cultivated in different regions across the country. Goychay, which has developed some 70 variations of this delicious fruit, has long been considered its homeland.
Rich in vitamins, the most popular pomegranate variations found in Goychay are Guloysha, Bala mursal, Nazik gabig, Shah nar, Girmizi gabig, cross-bred Shelli, Girmizi valas Shahnaz, and Agshirin.
The juice of the pomegranate is not only tasty but also very healthy. It is helpful for diabetics and people who suffer from anemia.
Azerbaijan not only grows pomegranates but also produces pomegranate juice for export. The fruit's juice concentrate, Narsharab, which is used as a sauce for meat and fish, is also a very popular export product.
Moreover, the fruit was chosen as a mascot for the first European Games, held in Baku this summer. The pomegranate symbolizes unity in Azerbaijani folklore and was used to adorn the center of the elegant bouquets presented to the winning European Games athletes, alongside their medals.
The Pomegranate Festival has been celebrated around the country, but mainly in Goychay, annually in early November since 2006.
Organized by the Culture and Tourism Ministry and the Executive Power of the Goychay region, the festival features unique, delicious dishes made from pomegranate, as well as an extraordinary national spirit.
Everyone is invited to test the fruit and its jams and juice at every table that will be set up along the main street.
Visitors will enjoy different kinds of pomegranates: white, red, shades of purple, and ruby fruit will suit every palate. Tastes range from wild and sour to sweet. These flavorful pomegranate seeds that shine like precious rubies attract visitors from all over Goychay.
Craftsmen, potters, millers, blacksmiths, artists, dancers, and athletes will thrill the audience. The performances by folklore groups, children's drawings, music, and song and dance routines will surely linger in the visitors' memories for a long time.
Throughout the venue, one will find banquet tables, crammed with different pomegranate dishes, including pies, desserts, jams, salads, and even a pizza with pomegranate seeds as a topping.
Many other events also await visitors, such as the "biggest pomegranate" competition, the contest for the fastest consumer of pomegranates, and another contest involving squeezing out pomegranate juice.
--
Amina Nazarli is AzerNews' staff journalist. Follow her on Twitter: @amina_nazarli

Follow us on Twitter: @AzerNewsAz