13 October 2015 11:02 (UTC+04:00)
1 873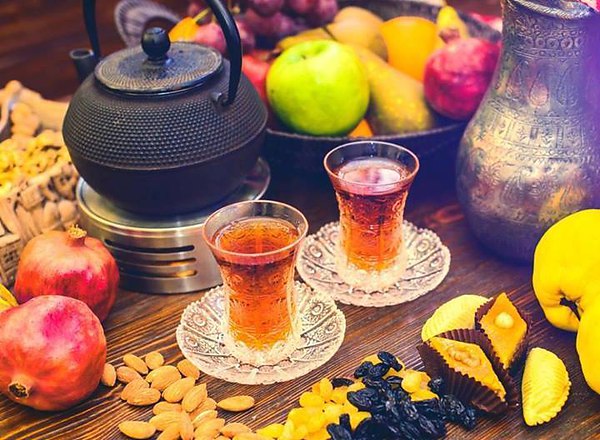 By Amina Nazarli
Azerbaijan, which holds various events and festivals annually, included another interesting activity to its list.
The International Tea Festival, organized by the National Cuisine Center and the National Cuisine Association, will be held in the capital of Baku for the first time.

The festival is scheduled for October 20 as part of World Cuisine Day, which will take place in the country for the third time.
At the event, foreign diplomats from Japan, Korea, China, Iran, India etc. will hold tea ceremonies.
Azerbaijanis are well known as a nation that loves to drink tea. The tea culture is so pervasive that people can be seen drinking tea all day long from the early morning until late at night, despite the season. A cup of tea from a pear-shaped "armudu" glass is always a good idea here.
It really resembles a pear – its top and bottom are wide and the "waist" is narrow. There are many explanations for the unusual shape of this glass. Some say it is easy to handle, others say the shape of the glass reminds drinkers of a girlish figure.
This may seem strange for the many foreigners who come to Azerbaijan for the first time, but eventually even foreigners adopt this tradition.
For Azerbaijanis, serving tea at the beginning of a meal is considered to be a symbol of hospitality and is often accompanied by fig, strawberry, apricot, walnut, blackberry and other jams. The advantage of this tradition is that tea drinking with guests at the table makes conversation flow smoother. Tea is also spiced with cinnamon, cardamom leaves or ginger for extra flavor.
Tea ceremonies have deep traditional roots in Azerbaijan. A traditional tea ceremony has its own rules and practices that are designed to make the serving and drinking process enjoyable. According to an old tradition, the host has to offer tea to every visitor, even if the visit is supposed to last only five minutes.
Tea is associated with warmth and friendliness; therefore, tradition says that one should not allow the guest to leave the house without having at least one cup of tea.
Tea is also an indispensable part of matchmaking.
The answer of acceptance or decline from a girl's family is given by tea. If the tea that is taken to the table is sweet, the families could prepare for the wedding. If the sugar is served separately from the tea, it results in failure.
Azerbaijan is among the leading countries in terms of tea consumption per capita. Statistics show that annual consumption of tea by the over 9.5 million population is no less than 11,600 tons per year.
--
Amina Nazarli is AzerNews' staff journalist, follow her on Twitter: @amina_nazarli

Follow us on Twitter @AzerNewsAz