National taekwondo fighter secures gold medal at University Int'l Sports Festival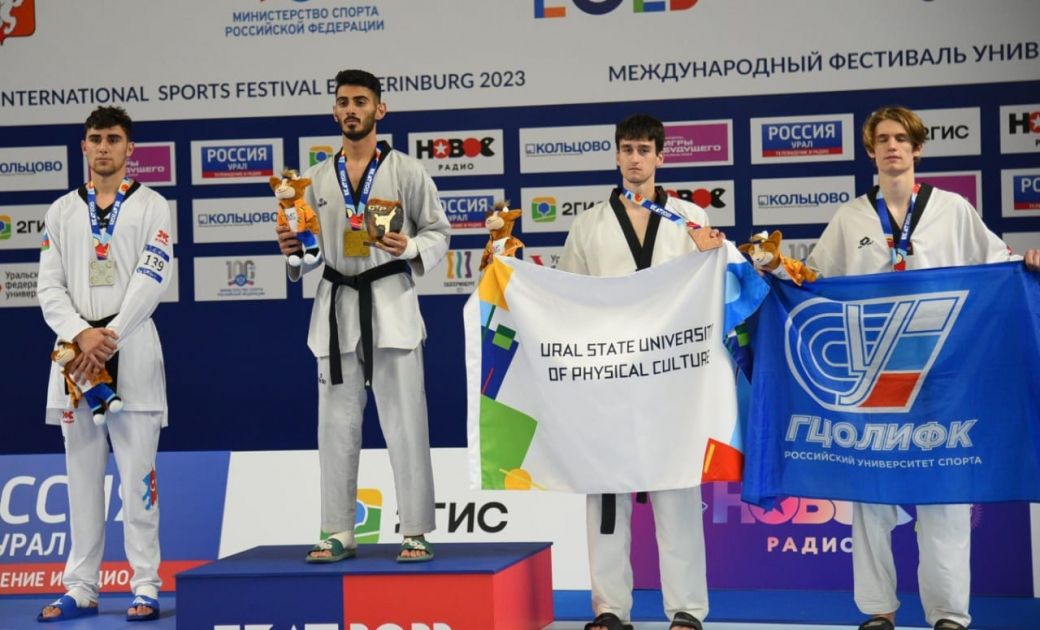 Azerbaijani taekwondo fighter has secured a gold medal at the University International Sports Festival held in Yekaterinburg, Russia.
In the final match, taekwondo fighter Seyyad Dadashov (54 kg) defeated Russian Mikail Tomilov with a score of 2:0, Azernews reports.
Vagif Hajiyev (68 kg) and Eltaj Gafarov (80 kg) secured silver medals for Azerbaijan.
The University International Sports Festival has gathered around 4,000 athletes from 22 countries. The sportsmen will contest for 197 medal events across 14 sports.
The sport festival is also timed to the 300th anniversary of the founding of Yekaterinbur.
The slogan for the festivals is announced as "Yekaterinburg on Sports" following a public vote.
Note that the Azerbaijani taekwondo fighters have previously won 3 medals at European Junior and Olympic Weight Categories Taekwondo Championships.
Azerbaijani taekwondo fighter Gashim Magomedov has been crown European champion. Silver medals came from Javad Agayev (68 kg) and Hamidreza Badrialiabadi (+80 kg).
Taekwondo is one of the most popular sports in Azerbaijan. The National Taekwondo Federation has trained many prominent athletes since its founding in 1992.
In 2018, Radik Isayev (80 kg) was crowned European Champion for the second time in his career.
Another national taekwondo fighter Milad Beigi Harchegani (80 kg) became the world taekwondo champion in 2019.
Moreover, the Azerbaijani taekwondo team won five medals at the 5th Islamic Solidarity Games.
The taekwondo fighters won one gold, two silver, and two bronze in Konya, Turkiye.
The medals came from Farida Azizova (gold medal), Javad Aghayev, Minaya Akbarova (silver medals), Hashim Mahammadov, and Patimat Abakarova (bronze).
In total, Azerbaijani sportsmen captured 99 medals at the 5th Islamic Solidarity Games including 29 gold, 36 silver, and 34 bronze.
---
Follow us on Twitter @AzerNewsAz