Mascots of 4th Islamic Solidarity Games Baku-2017 revealed [PHOTO]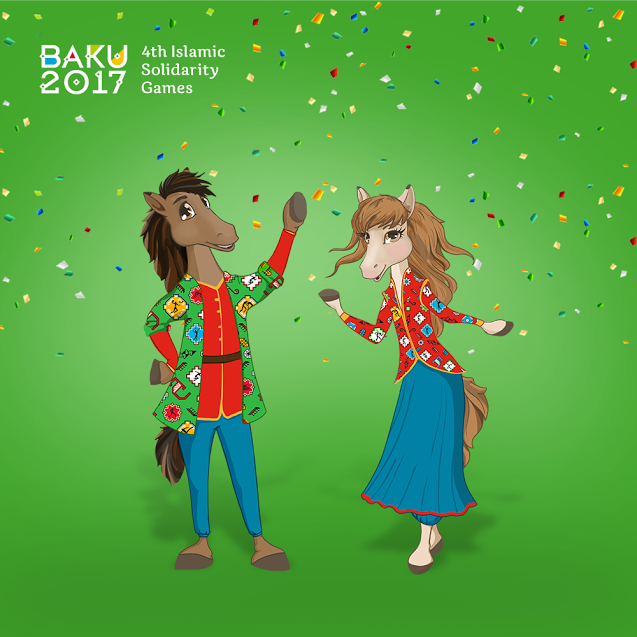 By Laman Ismayilova
The Operations Committee of the Azerbaijan Islamic Solidarity Games presented official mascots of Baku-2017 Islamic Solidarity Games.
National treasure of Azerbaijan, well-known in many
countries in the world due to its beauty, Karabakh horses are displayed to the public as the mascots of the 4th Islamic Solidarity Games.
Karabakh horses embody subtleness and courage and from now on will be the image of the 4th Islamic Solidarity Games along with playing significant role in the games promotion.
Featuring beauty, "Subtle" ("Inja") horse also catches an eye due to its exquisiteness and charm. Inja also juxtaposes national traditions and modernity.
Like another Karabakh horse, charming, brave and determined "Courage" (Jasur) is distinctive with self-confidence and independence. Fearing of nothing, wilful and determined Jasur is also known for its friendly and attentive attitude to humans.
Hence forward along with inspiring people, Inja and Jasur, symbols of the 4th Islamic Solidarity Games, will give a lead of sportive feast in the capital and regions of the country.
Mascots are still in picture format but shortly will be animated and physically displayed at the events of Baku-2017 Islamic Solidarity Games.
The Baku 2017 Islamic Solidarity Games is an exciting multi-sport event uniting the Islamic world, which will take place in Baku, Azerbaijan from 12 – 22 May 2017.
Athletes from Islamic countries around the world will be representing their nations over 10 days of competition across 20 different sports which include 24 disciplines (Athletics and Para Athletics, Aquatics – Diving, Aquatics – Swimming, Aquatics – Water Polo, Basketball 3x3, Football, Gymnastics – Artistic, Gymnastics – Rhythmic, Wushu, Table Tennis, Handball, Judo and Blind Judo, Wrestling – Greco, Wrestling – Freestyle, Shooting, Tennis, Volleyball, Boxing, Zurkhaneh, Karate, Taekwondo and Weightlifting) in 16 state-of-the-art competition venues across Baku.
Azerbaijan's capital city Baku was awarded the Games at the General Assembly of the Islamic Solidarity Sports Federation (ISSF) in Jeddah in July 2013.
---
Follow us on Twitter @AzerNewsAz