Indian PM vows for expanding ties with Iran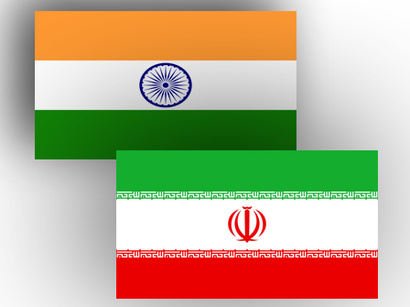 By Fatma Babayeva
Indian Prime Minister Narendra Modi has paid his first official visit to Iran over his two years in this position.
On the sidelines of the meeting between Iran's President Hassan Rouhani and Indian PM on May 23, the two countries undersigned 12 memorandums of understanding (MOUs) , reported Iranian IRINN TV.
The signed documents envisage cooperation in various fields including science, culture, technology and diplomatic affairs, as well as, economic and financial cooperation. Moreover, the parties signed documents on developing the strategic Chabahar port, located in south eastern Iran.
In the meantime, the development of the Chabahar port along with the Chabahar-Zahedan-Zaranj land route will enable Afghanistan to get direct access to India via the sea, and will create an access to the Middle East for India as well.
Modi said energy projects are the major points on agenda, underlining the development of Iran's Farzad-B oil field as one of the most important ones.
India will be trading to double its oil imports from the Islamic Republic, as Iran is India's second biggest oil supplier.
In addition, India is looking to get rights to develop a giant gas field in the energy rich Iran.
Modi is the first Indian Prime Minister who visits Iran in the last 15 years. Heading a big political and economic delegation the Indian Prime Minister arrived in Tehran at early hours on May 23.
During his two day visit the Indian PM also plans to meet Iranian Supreme Leader Ayatollah Ali Khamenei on May 23, after being formally greeted by President Hassan Rouhani.
Another document which will be signed by Iran and India as well as Pakistan during Modi's visit is a transit project in the same area which is expected to boost trade between the three countries greatly.
The issue of the debt repayment for oil supply from Iran is likely to be one of the main topics on the Indian Prime Minister visit to Tehran.
Two Indian petrochemical companies have already paid $750 million to their Iranian partners, having therefore partly repaid India's multibillion debt to Iran for oil supply, according to the Indian media.
Transactions in euros were made over the past two days. The Mangalore Refinery and Petrochemicals company together with Indian Oil Corporation have paid $500 and $250 million to National Iranian Oil Company.
The debt of the Indian companies to Iran has accumulated around $6.5-billion debt over the past three years due to the financial sanctions against Tehran over its nuclear program.
Although, most of the sanctions against Iran were lifted earlier in the year, the problem is still far from being solved, as no transactions in U.S. dollars are possible so far. Now the sides are looking for other ways to conduct payments.
---
Fatma Babayeva is AzerNews' staff journalist, follow her on Twitter: @Fatma_Babayeva
Follow us on Twitter @AzerNewsAz