Chabahar port within interests of China,India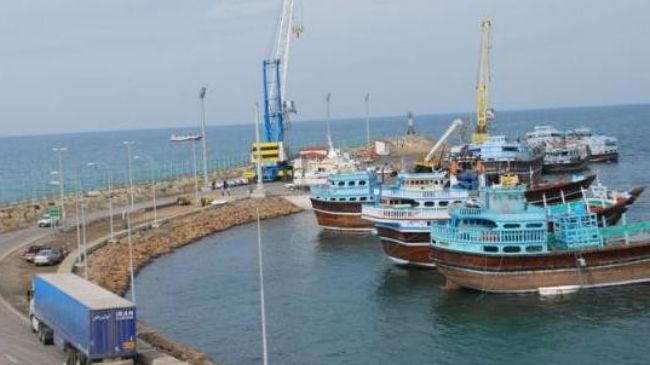 By Vusala Abbasova
China and India remain interested in developing the Iranian Chbahar port, regarding it as a project with huge potential to encourage the shipping industry in the region.
The Chabahar port development project is ambitious in attracting many foreign investors due to its favorable location in the southeastern Iran and promising opportunities as part of restoring the Silk Road.
The region's huge economy has reached an accord with Iran over the lucrative project, regarding it as an alternative route to trade with Europe.
China faces a problem with pirates in the Mediterranean Sea and the Gulf of Aden, which appear to have a significant influence over its foreign trade.
Creating the Silk Way marine route through the Chabahar port would ensure China access to Central Asia and Afghanistan.
Aspiring to elevate its sanctions-hit economy, Iran indeed welcomes China's investments in the development of Chabahar port in its southeastern Sistan-and-Baluchestan province.
Iran calls on Chinese enterprises to participate in a series of projects in Chabahar, including the development of a rail network as well as key petrochemical and steel projects.
Iran stands ready to provide lucrative business opportunities to the countries that stood by it during hard times.
"We will be glad to work with China to make our relations solid and strong," IRNA quoted the official as saying.
Oset-Hashemi further emphasized that he will meet the ambassadors of China and Pakistan in Tehran within the next few days to discuss potential investments between the two countries in Chabahar.
As many as 36 states have signed transport agreements on use of the port, but none are active yet. China is ready to contribute to their implementation.
The Chabahar port should have the status of international marine port, but at the moment, it doesn't have access to railway. The port needs investments in the amount of $800 million-$1 billion.
Chinese goods are shipped to the Iranian port of Bandar Abbas and Chabahar through the port of Dubai. The presence of access to the Chabahar port would significantly simplify this process.
China has at its disposal the Pakistani Gwadar port but this is obviously not enough.
India's media reported earlier that the presence of a cargo terminal in the Chabahar port will provide neighboring Afghanistan with an alternative route to the marine port and will significantly increase its involvement in regional and global markets.
The port is largely planned to be developed through a much-awaited investment by India, while the exact scope of China's planned investment in Chabahar is not yet known.
India has expressed its readiness to invest 2 trillion rupee (over $30 billion) in the Chabahar special economic zones in Iran but the investments would depend on gas prices, transport and shipping, according to a recent announcement by the Minister of Road Transport and Highways of India Nitin Gadkari.
Gadkari made these remarks during a meeting with Indian Prime Minister Narendra Modi this month while discussing investment proposals on the crucial Chabahar port special economic zone (SEZ) in Iran.
Gadkari said that Indian companies are ready to invest in various projects in Iran ranging from road and rail to shipping and agriculture.
Earlier, India and Iran discussed the possibility of developing the Chabahar port, which would give India access to Afghanistan by sea, bypassing Pakistan.
The port will be connected to Zahedan on the Iran-Afghan border through a railway line, which will also be built by Indian construction company IRCON.
The port will also be used to ship crude oil and urea, cutting transport costs and freight time from India to Central Asia and the Gulf by about a third.
India, the world's fourth-largest petroleum consumer, is Iran's second largest oil customer after China, and purchases around $12 billion worth of Iranian crude every year, about 12 percent of its domestic consumption.
It is in fact central to India's efforts to circumvent archrival Pakistan and open up a route to landlocked Afghanistan where it has developed close security ties and economic interests.
The port can also serve as a gateway to the resource-rich countries of Central Asia.
Iran and India agreed to develop the Chabahar port in 2003, however, their plans have not been realized because of the Western sanctions against Iran.
---
Follow us on Twitter @AzerNewsAz