16 February 2015 17:49 (UTC+04:00)
2 565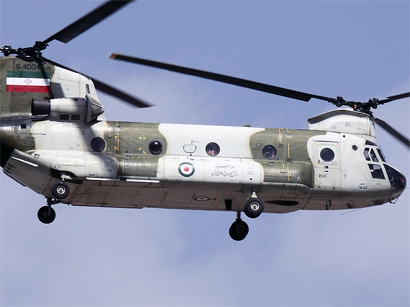 By Sara Rajabova
An official from Iran's army has said an Iranian-made 14-seat helicopter has successfully passed its first flight test.
General Mohammad Ali Ahmadabadi, Managing Director of Iran's Helicopter Renovation and Logistics Company (PANHA) said now the final tests were carried out on the semi-heavy "Homa" helicopter, IRNA news agency reported on February 16.
Homa, which is the third Iran-made helicopter, can be armed with various weapon systems and get equipped with a radar-evading capability.
In recent years, Iran has made great achievements in military sector and attained self-sufficiency in producing essential military equipment and systems, according to the country's media.
In 2012 Iran presented two domestically made helicopters named "Panha 1" and "Panha 2."
Panha 1 is a medium-class helicopter model, capable of carrying 14 people. It is suitable for both military and non-military purposes. Panha 2 model is smaller, a light-weight class model, capable of carrying eight passengers.
Meanwhile, a senior Iranian commander said the country is installing Sepehr radar, which would be able to keep tabs on enemy bases as far as 3,000 kilometers away.
Brigadier General Farzad Esmaili, Iran's Khatam al-Anbiya Air Defense Base Commander said installation of the radar has been completed by 40 percent, adding that the project is underway without any problem.
He said the radar helps Iran exercise "defense in depth" and shields the country's sky against threats. The long-range radar can intercept ballistic and Cruise missiles.
In November 2014, the first phase of the radar system was tested and assessed within one section inside the operational radius of the country's integrated air defense network.
Over the past years, Iran has gained important achievements in its defense sector, attained self-sufficiency in producing important military equipment and systems and enhanced the preparedness of its forces by holding various drills.
Iran, however, has repeatedly stated that its military might poses no threat to other countries, insisting that its defense doctrine is merely based on deterrence.
Iran has recently taken great strides in defense sector and attained self-sufficiency in producing essential military equipment and systems. Iran has so far unveiled various domestically produced drones, including Ababil, Fotros, Hazem, Karrar (long range attack drone), Mohajer, Sarir, Shahed 129, Yasir and Zohal.
Since 1992, Iran has manufactured its own tanks, armored personnel carriers, missiles, radars, boats, submarines and fighter planes.
--
Sara Rajabova is AzerNews' staff journalist, follow her on Twitter: @SaraRajabova

Follow us on Twitter @AzerNewsAz
Related News