Dust storms spark protest in Iran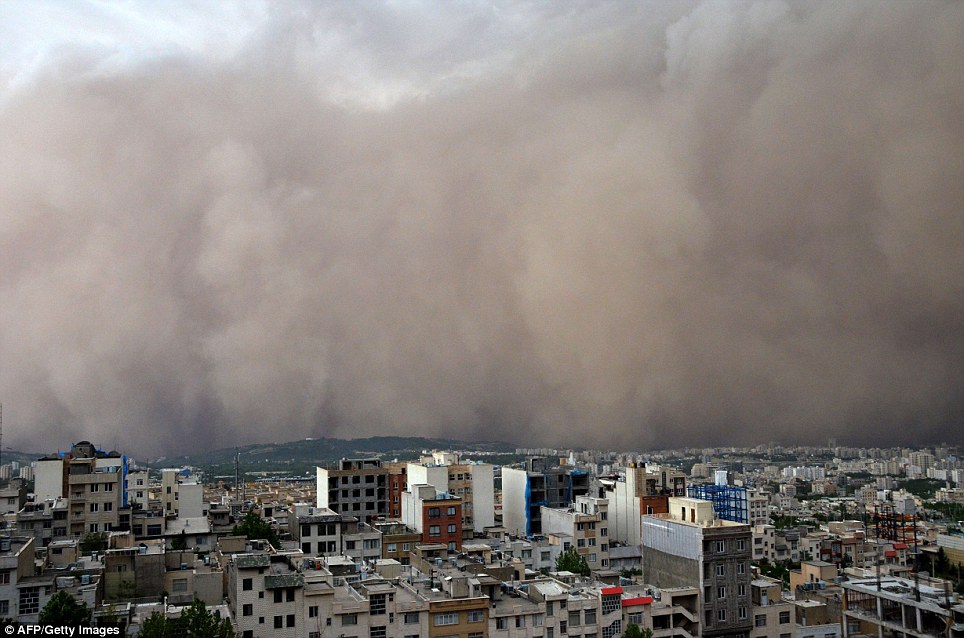 By Sara Rajabova
The recent dust storms in Iran's southern provinces that crippled lives in these areas have sparked a public protest.
A group of people gathered in front of Khuzestan Governorate office in capital Ahvaz demanding action to tackle the storms, IRNA news agency reported on February 11.
The province's Environment Protection Organization's Public Relations has announced that the density of dust particles in the air reached 9.985 micrograms per cubic meter, registering a record pollution 66 times greater than the healthy limit.
In recent years, dust storms in Iranian provinces have increased in frequency and density. The heavy dust storms have on occasions caused people serious respiratory problems, sometimes even forcing them to seek medical care.
A report by the province's Center for Management of Incidents and Medical Emergencies said 230 cases suffering respiratory problems had sought medical help at hospitals by February 10.
At least three ambulances and 12 aid personnel are strolling downtown to offer help to people, according to the announcement.
Head of Iran's Environment Protection Organization Masomeh Ebtekar's trip to Ahvaz was canceled because the dust forced airline flight closures. She intended to hold emergency meetings on the crisis with local authorities.
In late January, strong dust storms in the southern Iranian city of Ahvaz forced officials to call off afternoon school sessions.
Ahvaz representative to the parliament said that the government has allocated a fund of 3 trillion rials (34,500 rials making $1) to planting trees at areas in Khuzestan.
The MP said the dust is mainly a result of drought at Hurul-Azim (a wetland in western Khuzestan) that has become a source of particles raised into the air. Today, nothing is left of the former base of water but a dry desert.
The dust in the air is believed to be the result of dust being carried by atmospheric circulation from the lands to the west of Iran.
Some blame the desertification of lagoons in Iraq and the strong winds from the deserts of Saudi Arabia for the blanket of dust reaching Iranian cities.
--
Sara Rajabova is AzerNews' staff journalist, follow her on Twitter: @SaraRajabova
Follow us on Twitter @AzerNewsAz