Kazakhstan to allocate 1 trillion tenges for economic development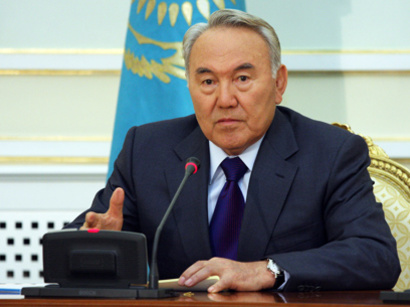 By Aynur Jafarova
Kazakhstan will allocate one trillion tenges ($1 - 184.8 tenges) for economic development.
This remark was made by Kazakh President Nursultan Nazarbayev on February 21 during a meeting on the issues of promotion of entrepreneurship and rehabilitation of the financial sector in Astana.
"External financing sources are inaccessible for us and the allocated loans are very expensive," Nazarbayev said. "Internal resources of the banking system are limited, as domestic banks only are getting out of the crisis. In connection with this, as you know, it was decided to allocate significant funds from the National Fund in the amount of one trillion tenges."
The allocated funds will be spent to uphold the economy, especially small and medium business, as well as to continue the industrialization and implementation of infrastructure projects in the country.
Nazarbayev also said the industrialization and implementation of infrastructure projects ensure new jobs, wages for citizens and in general, create opportunity for improving living standards.
The president pointed out that the National Fund has played an important role in the period of world financial and economic crisis in 2008-2009 when significant funds were allocated from it.
"Kazakhstan's economy was saved, the decrease in pensions and wages, as happened then worldwide, was prevented. As is known, many European countries are still experiencing negative effects, reducing wages, pensions and all other payments. Today's decision also confirms the rightness of our step for establishing the National Fund. The state should have reserves in the case of difficulties that may arise, given that the global crisis is still going on," the president said.
Nazarbayev drew attention to the existence of specific bankable projects to be funded from the National Fund.
"The allocated funds will be mainly directed to the development of the processing industry. The implementation of projects for producing qualitative products for export is also important. In this regard, a relevant commission will be established, which will deal with the distribution of borrowings," the president said.
Kazakhstan plans to allocate over 164 billion tenges to finance the national geological projects in 2015-2019 while the investments in Kazakhstan's power generation are estimated at $54 billion by 2030.
Experts believe Kazakhstan's mining sector requires about $100 billion of investment while to achieve GDP growth by seven percent, the country needs to attract additional investments worth 80 percent from 2013 to 2020, which is equivalent to $10 billion a year.