EU-Georgia Council to hold meeting in Brussels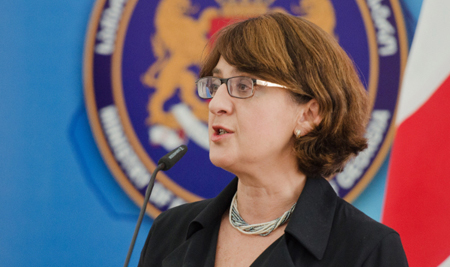 Jamila Babayeva
Brussels will host the 14th meeting of EU-Georgia Cooperation Council on December 12. This year Georgia heads this council In accordance with the principle of rotation.
Georgian delegation will include Georgian Foreign Minister Maia Panjikidze, State Minister for Integration into European and Euro-Atlantic structures Alexi Petriashvili and from the EU side - European Commissioner for Enlargement and Neighbourhood Policy Stefan Fule.
The council will consider the issues included in the agenda, in particular, the relations between Georgia and the EU, the reforms conducted in the country in the sphere of democracy, human rights the rule of law and the issues of peaceful settlement of conflicts.
The council's meeting bears a special responsibility, as it is being held following the Vilnius summit of the Eastern Partnership. Thus, the special attention will be paid to Georgia's successes mentioned during the summit, as well as to the concrete measures that should be taken by Georgia after the summit.
The sides also plan to sign a protocol on Georgia's participation in EU programs that will be another step on the path of rapprochement with Europe.
During her visit to Brussels, Panjikidze is expected to meet with EU Commissioner for Home Affairs Cecilia Malmstrom. The parties will discuss the progress and the subsequent steps in the implementation of the plan on visa liberalization with the EU.