Kyrgyz Parliament approves Manas agreement denunciation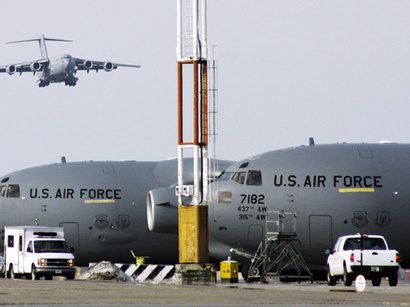 Kyrgyzstan's Parliament on June 20 supported in three readings the denunciation of the agreement between the governments of Kyrgyzstan and the United States on the Transit Center at the international airport of Manas, AKIpress news agency reported.
Under the bill, the transit center ceases its activities in Kyrgyzstan on July 11, 2014.
It is also noted that six months before the expiration of the agreement, the Ministry of Foreign Affairs should send a note on non-extension of the contract to the United States.
96 parliamentarians took part in the vote; 91 of them voted 'pro, and 5 - 'contra'.
The Transit Centre, formerly called a military base, was opened at Manas international airport in late 2001. The centre is a major logistics hub for transportation of goods and the antiterrorist coalition forces to Afghanistan. An agreement on the placement of a U.S. air base in Kyrgyzstan is valid until 2014.
Kyrgyz President Almazbek Atambayev has repeatedly said that the country will not extend the stay of foreign troops at its civil airport under any circumstances.
The law will come into force upon signature by the President.