UK continues to support demining efforts in Azerbaijan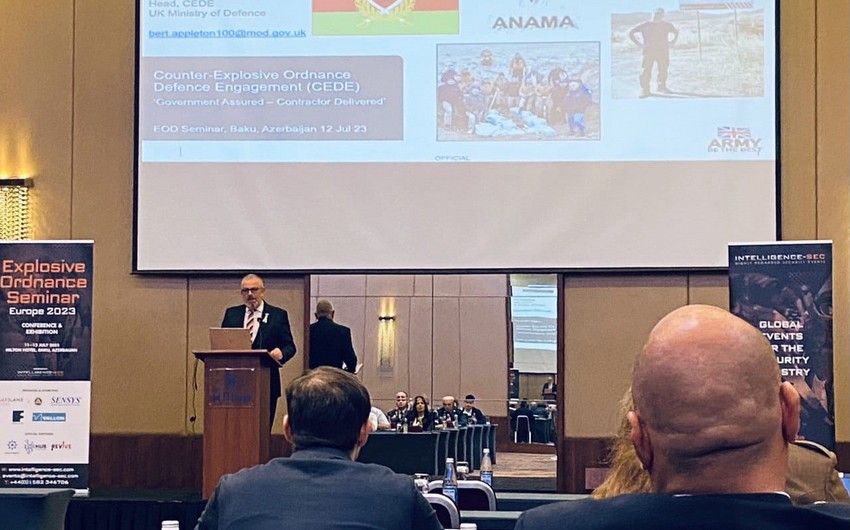 The UK continues to support demining efforts in Azerbaijan, the British Embassy in Baku wrote on Twitter, Azernews reports, citing the British Embassy.
"UK Ministry of Defence representatives were pleased to be guest speakers at the Intelligence-Sec organised workshop on mine action and explosive ordnance in Baku," the tweet reads.
Demining units of the Azerbaijani Army continue to fulfil their tasks in the liberated territories, Azernews reports with reference to MOD.
In general, Azerbaijan is among the most mine- and unexploded ordnance-contaminated countries in the world. More than 1.5 million mines were buried in these territories during the occupation.
After the 44-day war, 302 Azerbaijani citizens became victims of mines (57 killed and 245 wounded). In total, since the beginning of Armenia's military aggression, some 3,400 Azerbaijani citizens have suffered from mines, 587 of whom have been killed.
However, as noted earlier, Armenian provocations did not end with the end of the war. Even after the end of the conflict, Armenia continued to lay mines on the territory of Azerbaijan along the Lachin road, and after 44 days of the war, more than 2,700 anti-personnel mines manufactured by Armenia in 2021 were discovered on our territory.
As a result of the activity of engineer-sapper units in June this year, up to 200 hectares of territory were completely cleared of mines in the liberated territories.
As of today, more than 30,890 hectares of the liberated territories have been cleared of mines and unexploded ordnance.
The main efforts are aimed at demining settlements, crop fields, roads and infrastructure in the liberated territories.
In accordance with the plan, the necessary engineering support measures are being carried out in the liberated territories.
In addition, as a result of the work of the Azerbaijani Army's engineer-sapper units, together with other State bodies, up to 9 kilometres of new supply roads have been built and up to 38 kilometres of existing ones repaired this year to ensure the safe movement of convoys of vehicles and military equipment over difficult terrain, including rocky areas.
---
Follow us on Twitter @AzerNewsAz