In concert with Armenia, Iran's mullahcracy speculated plotting provocations against Azerbaijan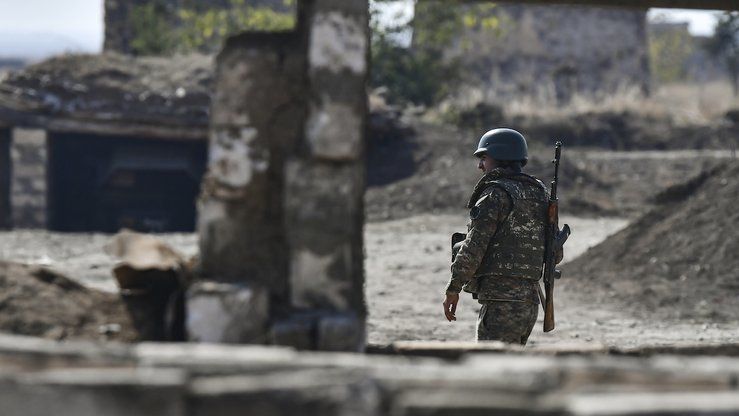 Far-fetched speculations are rife that Armenia in concert with Iran's IRGC is plotting military provocations against Azerbaijan.
Earlier, according to scuttlebutts, a sabotage group of 30 military men, made up mainly of ethnic Iranian Azerbaijanis - members of the IRGC - will take part in provocations of Iranian mullahcracy plotted against Azerbaijan amid Tehran's endless aversion to the northern neighbor's independence.
Primary sources also claimed that a specially trained sabotage group is located in the immediate vicinity of the Armenian-Azerbaijani border and the group is led by an IRGC general with rich experience from the Syria war, where he led the development and implementation of local military operations and sabotage and terrorist attacks.
Azerbaijan is believed to have accurate information about the unit commanders and even about some fighters of the IRGC sabotage group. The sources allege that Iran plots several objectives with this provocation via Armenia, one being to use Armenia as a shield against Azerbaijan.
The information coming from various independent sources shows that two consecutive attacks would be carried out against Azerbaijani via Armenian territory. A group is believed to be in the uniform of the Armenian armed forces while attacking Azerbaijani military posts; another group is believed in the military uniform of the Azerbaijani armed forces. The pure objective of the attacks is to rekindle another war in the region and kill as many soldiers as possible to blame and expose Azerbaijan to international denunciations.
Others believed to be collecting proof for the EU mission in Armenia to blame Azerbaijan yet for another "act of aggression" and thus launch another propaganda campaign against Baku internationally.
Taking into account that Iranian media outlets have been shaping negative public opinion on the Zangazur corridor as if Azerbaijan tries to cut Armenia-Iran ties by creating the corridor, the planned provocation on the border will create a legal basis for the entry of Iranian armed forces into the territory of Armenia.
Meanwhile, claims of Armenian and European politicians, in particular, French officials confirm something is in the pipeline. At a press conference with Croatian Foreign Minister Gordan Grich Radman, Armenian Foreign Minister Ararat Mirzoyan stated that despite all the efforts of Armenia, the situation in the region remains fragile and tense, and there is a possibility of a new escalation.
Nathalie Loiseau, a member of the European Parliament, stated that the EU had distanced itself from conflict for too long, and the EU and the OSCE must do more, now. She added that France will send gendarmes as part of the EU mission, which will be deployed along the border between Azerbaijan and Armenia.
---
Follow us on Twitter @AzerNewsAz