Baykar Technology planning to create supersonic option of KIZILELMA - Selcuk Bayraktar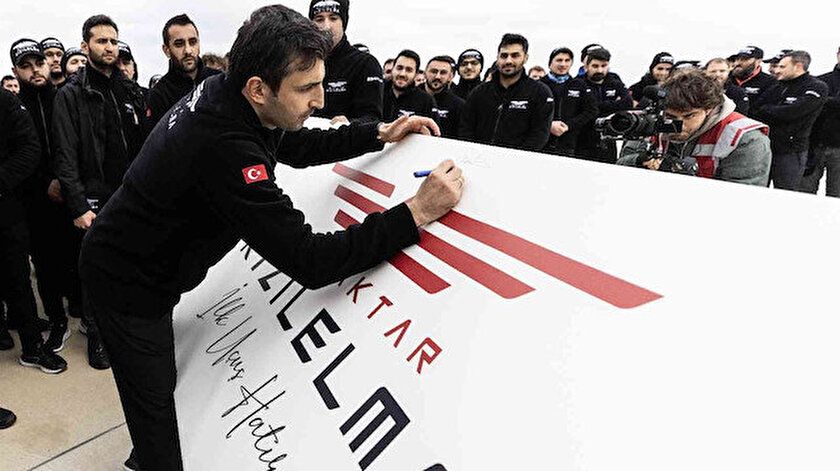 By News Center
Speaking to Candas Tolga Isik's program on TV100, Baykar Technology leader Selcuk Bayraktar spoke about Turkiye's defense industry moves.
Asked, "What are the advantages of owning a UAV for a country?" Bayraktar said.
"When the whole world saw the ingenuity of the SIHAs developed by our country, there was a paradigm shift in combat. When we say SIHA, it was designed a little more for reconnaissance, but weapon systems were added to it, mostly flying at lower speeds and staying in the air for a long time. You are talking about a system. In fact, the whole world saw in Turkiye's example what a great benefit they provide in the battle against the existing high-tech systems. It was first seen in Idlib, then in Libya, and now in Ukraine," he said.
Making a comparison between KIZILELMA and F-35 warplanes, Bayraktar noted that "it may not be very accurate to compare a plane that has made its first flight with planes in use in many countries, but when KIZILELMA is fully ready for use, it can excel in some issues. Once you have an unmanned, externally managed aircraft. There are 5th-generation planes that have very advanced radar and ammunition. Our country is also developing 5th-generation planes right now. KIZILELMA will pave the way for 5th generation planes in the future."
"KIZIELMA will be able to fight against warplanes, it has more advanced capability in terms of speed than AKINCI. KIZILELMA will be able to perform aggressive maneuvers. Although AKINCI has a range of 7,500 kilometers, KIZILELMA will have a range of around 1,800," said Bayraktar referring to the differences between KIZILELMA and AKINCI.
He stated that there will be a variant that can fly over the sound. The continuation of Selcuk Bayraktar's statements is as follows.
"KIZILELMA will be able to fight against warplanes. Besides, it goes much faster. We are even considering making a supersonic variant. It is a less-used variant. It will also have a variant that can fly above the voice. In addition, KIZILELMA will make aggressive maneuvers," he said.
Bayraktar also spoke about the strengths of his invention on the world stage.
"Since the technology, we are talking about defense industry technology, there are incredible limitations. There are technological embargoes. If you think about it worldwide, its design is national and original. The greatest added value is actually in the software. Bayraktar TB-2 was made with a locality rate of 93 percent, which is considered a record. What makes this valuable? The technology inside. We design almost everything except the chips supplied from the world inside, actually, the most valuable thing here is the power of design. There are more than 40 computers inside Bayraktar TB-2. If you think about the hood, we also design the whole body. From aerodynamics to brake pads, we design and manufacture. It's not worth much there, it's the computers inside that make it valuable. Billions, millions of lines of software make it valuable," he stressed.
The Baykar Technology leader also stated that he worked in line with the software of KIZILELMA.
"It came out in early 2021, of course, we couldn't do it without Akinci. We are a team that works like a Formula 1 team. In a sense, with the development of the mini UAV, I dealt with Kizilelma's software line by line. Now our team is much bigger. My area of ​​expertise is actually their automatic flight, frankly. The bureaucrats of that period stopped the Manzikert project with various excuses, slander, and slander. When we worked very hard on the land in the Southeast, I spent 3-4 years on the land.
My father was an industrialist, a good engineer, and like every engineer who loves his hometown, he had a dream of making airplanes. I also had a great interest in model airplanes, I was interested in robotics. Teknofest is organized with the motto that we actually founded, 'Let a child come and touch it, maybe it will work in our country's space program'. In a sense, when you look at the world, those who founded aviation space programs have such a memory of their past. We want to create these memories and experiences," Bayraktar added.
He also stated that everyone saw Turkiye's participation in technology as a campaign to destroy.
"Baykar started our Unmanned Fighter Aircraft struggle about 20 years ago as a family enterprise. It was a tiny team. It was made without a penny of support from anyone. We saw the siege of our country in technology as a campaign to overthrow. If we lit a spark, in a sense, we went after him, just as Nuri Demirag and Vecihi Hurkus did. That adventure had an effect on us.
Sometimes, we encountered difficulties. Even my father used to say.
'Our planes have always flown over the skies of our country, not in the corridors of bureaucracy, but in Gabar, Sirnak, and Hakkari,' he would describe. This is one of the most important points in the story. This technology was developed with the military at the front," continues Selcuk Bayraktar.
He added that in his opinion it is impossible to find someone as a Baykar.
"When Bayraktar TB-2 was very successful in the fight against terrorism, we started to develop AKINCI with the resources obtained there. Then, as soon as AKINCI entered the inventory, demand came from five countries. Imagine that Bayraktar TB-2 SIHA launched an aid campaign by giving a brand model to seven countries in the world, unlike in the history of the world, with anthems written on its name in the countries used. These are western countries. In Karabakh, medals were given to my deceased father, me, and my brother. Surely these are big projects, they need to be supported with great support. When we look at the defense industry, especially when you look at the side of the state, you see that a large part of it is covered by the state. When you look at the world, it is difficult or even impossible to find someone like Baykar. In the defense industry, you will not find another company that earns 98 percent of its revenues from exports and 75 percent of its revenues.
Strategic alliance with Ukraine turned into friendship in a sense. Before the war begins, we have commitments to fulfill, all of which we have to fulfill, and besides, we never saw this invasion as legitimate. I have always been interested in politics, especially at the level of international relations, and I followed different sources very closely. Our drone adventure in particular kept us so busy that we didn't look at anything else," he concluded.
---
Follow us on Twitter @AzerNewsAz