EU stays committed to Iran nuclear deal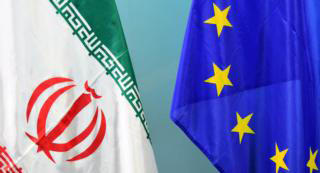 By Kamila Aliyeva
The European Union stressed the need to maintain the Joint Comprehensive Plan of Action (JCPOA), calling it a key element of the nuclear non-proliferation global architecture.
This was stated in the message of the Foreign Ministers of the EU countries on the JCPOA for Iran's nuclear program published on the website of the European Council.
"The JCPOA, the culmination of 12 years of diplomacy facilitated by the EU, unanimously endorsed by UN Security Council Resolution 2231, is a key element of the nuclear non-proliferation global architecture and crucial for the security of the region," the statement adopted in Brussels said.
Its successful implementation continues to ensure that Iran's nuclear programme remains exclusively peaceful, the statement of the EU Council said, noting that the International Atomic Energy Agency (IAEA) has already eight times verified Iran's compliance with the nuclear deal.
"The EU is committed to the continued full and effective implementation of all parts of the JCPOA. The EU underlines that the lifting of nuclear related sanctions has a positive impact on trade and economic relations with Iran including benefits for the Iranian people. It strengthens cooperation and allows for continuous dialogue with Iran," according to the statement.
The European Union believes that U.S. President Donald Trump's decision not to certify Iran's compliance is in the context of an internal U.S. process.
"The EU encourages the U.S. to maintain its commitment to the JCPOA and to consider the implications for the security of the U.S., its partners and the region before taking further steps," the statement said.
On October 13, U.S. President Donald Trump, long been known as the main critic of the landmark deal, declared his view of the JCPOA, saying that he would not certify Iran's compliance with the deal. The move paves the way for Congress to put new restrictions on Iran.
However, it is believed that Trump would not recommend the Congress to re-impose sanctions in order to reach a compromise with many congressional leaders who stand for keeping the deal at least with some changes.
In case sanctions are applied, the United States would find itself in breach of its commitments. This means a unilateral withdrawal from the agreement, which will damage the reputation of the U.S. in the eyes of world community.
The Iran nuclear deal was negotiated in July 2015 between Iran, the five permanent members of the United Nations Security Council and Germany. By ratifying the plan, Iran agreed to scale down its nuclear activities in exchange for sanctions relief.
At the same time, the U.S. retains sanctions against Iran on the missile program, human rights and on suspicion that Tehran sponsors terrorism.
---
Kamila Aliyeva is AzerNews' staff journalist, follow her on Twitter: @Kami_Aliyeva
Follow us on Twitter @AzerNewsAz