Total-led consortium's revenues from Iran's SP11 gas deal to reach $12B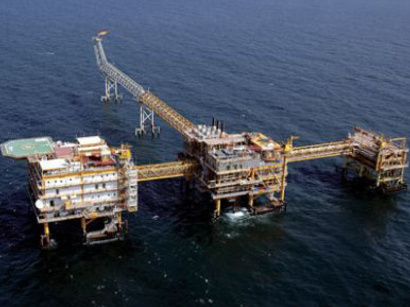 By Kamila Aliyeva
Iran says that about $12 billion would be paid to Total-led consortium in 20 years, based on the recently-signed multibillion agreement on development a project of South Pars gas field's phase 11.
Under the 20-year agreement, the first stage of South Pars phase 11 ($2 billion worth), would become operational in 40 months (including construction of two 1,500-ton platforms, drilling 30 wells and construction of 270-km pipeline) to produce 56 million cubic meters of gas and 80,000 barrels of gas condensate daily.
At the second stage, the consortium would launch a 20,000-ton platform with mega compressors, to maintain the production level in the phase, as the field is expected to reach dew point and lose productivity.
Iran's Oil Minister Bijan Namdar Zanganeh told journalists on July 5 that it is expected some $84 billion worth of revenue will come in from the Phase 11 in 20 years, based on expected $50/barrel oil price, of which 15 percent, or $12 billion, would be paid to Total (operator) and its partners.
Zanganeh said that if the agreement is to be extended, then the revenues of consortium would increase as well.
He noted that in case the foreign companies abandon the projects before completion due to possible sanctions on Iran, then their investment would be paid gradually after the project becomes operational, not immediately.
The minister also said that the Islamic Republic is negotiating with other companies on development of several oil fields, like Yadavaran, Yaran, Azadegan, South Pars oil lkayer and Azar field to sign agreement based on IPC.
Iran has signed a $4.8 billion deal with a consortium led by France's Total, with 50.1 percent stake, to develop the phase 11 of its giant South Pars gas field on July 3.
This deal is the Islamic republic's first one with a European oil company in more than a decade.
CNPC and Iran's Petro Pars have 30 percent and 19.9 percent stakes as well.
The long-anticipated agreement, based on newly designed contract model, called Iran Petroleum Contract (IPC), can be extended for 5 years further, and would become operational in two stages. Under the terms of the deal, Total will invest $1 billion in the first phase, the total cost of which amounts to $2 billion.
Total is familiar with the South Pars field that it will work on, as the company had experience there before sanctions made work in Iran impossible for big international companies.
The Phases 11 development project of the South Pars field is set to produce 56 mcmd of soar gas.
South Pars, located in southern region, is divided into 24 development phases, and contains 40 trillion cubic meters of natural gas.
It covers an area of 9,700 square kilometers, 3,700 square kilometers of which are in Iran's territorial waters in the Persian Gulf. The remaining 6,000 square kilometers are in Qatar's territorial waters.
Iran has vast energy resources — the world's largest proven natural gas reserves and the second-largest trove of oil in the Persian Gulf, according to BP.
---
Kamila Aliyeva is AzerNews' staff journalist, follow her on Twitter: @Kami_Aliyeva
Follow us on Twitter @AzerNewsAz