4 April 2014 09:53 (UTC+04:00)
1 304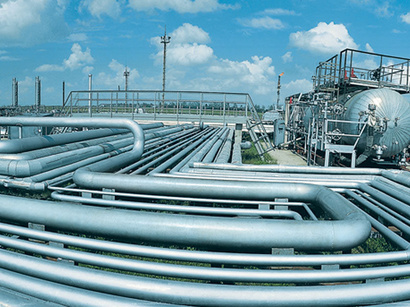 By Aynur Jafarova
The European Union (EU) is interested in continuing the negotiations on the Trans-Caspian Pipeline.
This was announced by head of the EU mission in Azerbaijan Malena Mard on April 2 at a briefing on the report on the results achieved in the European Commission's European Neighborhood Policy countries.

"The negotiations between Azerbaijan, Turkmenistan and the European Commission, as well as their continuation are extremely important. The EU intends to continue the active work on this project, especially given the expected successful implementation of the Shah Deniz-2 project," Mard said.

She also noted the EU is interested in diversification of energy resources' supply.

"We don't want to depend on a single source, as it happens now. EU member-states also conduct individual work on resolving this task," Mard said.
Mard went on to say that the EU is determined to expand the relations with Azerbaijan on all fronts.
"The European Union attaches great importance to Azerbaijan as an energy partner," she stressed.
The Trans-Caspian Gas Pipeline with a length of around 300 kilometers will be laid from the Turkmen coast of the Caspian Sea to Azerbaijan, where it will be linked to the Southern Gas Corridor. The pipeline's capacity is 30-40 billion cubic meters of gas per year.
Both Azerbaijan and Turkmenistan, two Caspian littoral countries, are interested in the use of alternative routes for the transportation of energy resources from the resource-rich Caspian region to European markets.
Talks on the construction of the Trans-Caspian Gas Pipeline between Turkmenistan, the EU, and other countries have been held since late 1990s.
The negotiation process intensified after the EU issued a mandate to start negotiations on the preparation of an agreement between the EU, Azerbaijan, and Turkmenistan on the Trans-Caspian project in September 2011.
Ashgabat believes that the agreement between Turkmenistan and Azerbaijan, the territories of which are covered by the project, is sufficient for laying a pipe under the Caspian Sea.
Baku has expressed readiness to provide its territory, transit opportunities, and infrastructure for its implementation, as reported by representatives of Azerbaijan's state energy company SOCAR.
Azerbaijan will benefit from transportation of gas through the Trans-Caspian gas pipeline as the implementation of this project will make Azerbaijan not only a supplier of gas, but also a transit country.
Related News