29 April 2013 13:17 (UTC+04:00)
1 124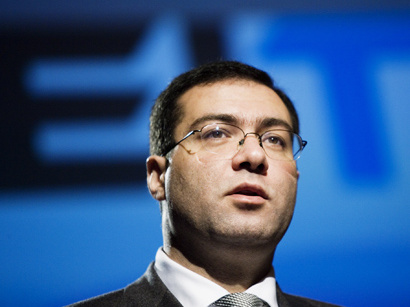 Azerbaijan's state oil fund,SOFAZ, is not going to use gold for speculative purposes, SOFAZ Executive Director Shahmar Movsumov told reporters.
According to him, speculative activity involves the purchase of gold and its sale at a higher price in the shortest possible time.
"We do not speculate. Our decision on the purchase of gold is of strategic importance. Through diversification of the state's foreign exchange reserves we have invested some funds in gold and do not intend to sell it," Movsumov said.
According to the plans, the State Oil Fund buys gold in batches, and this process will take place over two years.
"Our strategy has paid off. If we had purchased all the gold last year, it could have cost more. We believe this programme should be continued and this is the right strategy that has paid off," he said.
The fund began buying gold in the first quarter of 2012. The amount of purchased gold was 18.356 tons (590,146 ounces) as of April 1, 2013.
According to SOFAZ's investment strategy, up to five per cent of the fund's total investment portfolio may be invested in gold.
SOFAZ was established in 1999 when its assets amounted to $271 million.
The main purposes of the fund are: the accumulation of funds and placement of the fund's assets abroad to minimise the negative impact on the economy and preventing a 'Dutch disease', to ensure savings for future generations and to maintain the current social and economic standards in the country.
Related News