STAR refinery to reach its full production capacity in early 2019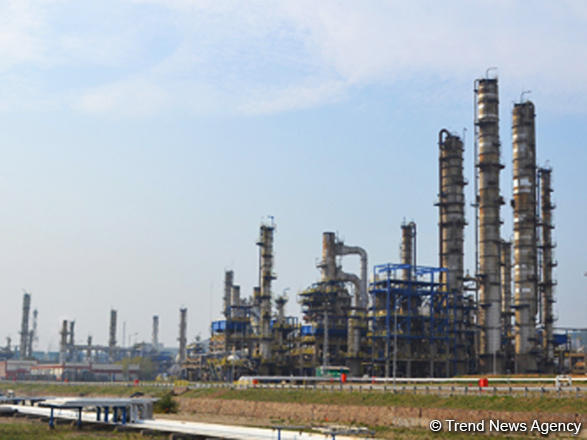 By Kamila Aliyeva
Turkey's STAR oil refinery, owned by the State Oil Company of Azerbaijan (SOCAR), will reach its full production capacity in January 2019.
This was stated by CEO of SOCAR Turkey Energy Zaur Gahramanov, Anadolu news agency reported.
He stressed that the refinery is a long-term investment project.
"As for financing, no bank in Turkey issues loans for the period we need. Therefore, we were forced to attract long-term financing abroad," Gahramanov added.
The STAR refinery will produce naphtha, diesel with ultra-low sulfur content, aviation kerosene, petroleum coke, liquefied gas and other products. The refinery will not produce gasoline and fuel oil. The plant plans to process such types of oil as Azeri Light, Kerkuk and Urals. The launch of the company is scheduled for October 2018. The processing capacity of the refinery will be 10 million tons of products per year.
To date, the share distribution in the project is as follows 60 percent belongs to Rafineri Holding (100 percent owned by SOCAR Turkey Energy), which previously bought out all 18.5 percent of the share of Turcas Petrol in the project, and 40 percent belongs to SOCAR.
STAR refinery will meet more than 25 percent of the processed oil products need of Turkey upon its startup. It will eventually reduce the foreign-dependency of the country.
STAR refinery, foundation of which was laid in 2011, is currently under construction on a 2,400-hectare site on Aliaga Peninsula. With a crude oil processing capacity of 10 million tons, STAR refinery is underway as the most critical component of SOCAR Turkey's integrated energy solutions and value chain.
STAR refinery will be put into service with a total investment of $6.3 billion. The construction of the refinery is undertaken by a multinational consortium, comprised of Técnicas Reunidas (Spain), Saipem (Italy), GS Engineering (South Korea) and ITOCHU (Japan).
Founded in 2008, SOCAR Turkey, officially titled "SOCAR Turkey Enerji A.Ş.", is an affiliate of SOCAR, one of the most well-established oil and natural gas companies of the world.
SOCAR Energy Turkey keeps empowering Turkish industry with its significant investments, thus assisting Turkey in becoming a major player in international energy platforms.
SOCAR is the biggest foreign investor of Turkey with its total investment to reach $19.5 billion by 2020.
At the same time, SOCAR's group companies in Turkey, namely Petkim, STAR Refinery, Petlim Container Terminal and Trans-Anatolian Natural Gas Pipeline (TANAP) represent the largest-scale investment that Azerbaijan has ever made to a single country.
---
Kamila Aliyeva is AzerNews' staff journalist, follow her on Twitter: @Kami_Aliyeva
Follow us on Twitter @AzerNewsAz