Azerbaijan to see 70pct increase in demand for food until 2050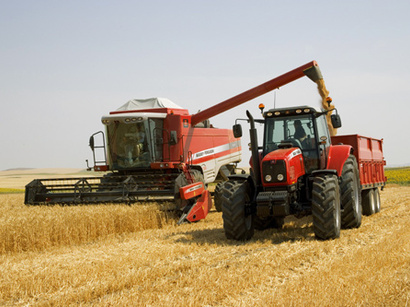 By Fatma Babayeva
The population of Azerbaijan is expected to grow to 12.1 million people by 2050, thus increasing the country's demand for food supplies in the future.
The remarks were made by Vusal Gasimli, Executive Director of the Center for Economic Reforms and Communication during the conference on "Strategic perspective on agriculture: completion, food security and social aspects" which was held at ADA University.
Gasimli noted that the amount of the consumed kilocalories will increase from daily 2,800 to 3,050 per capita in this timeframe, which means that demand for the food products will surge by 70 percent in Azerbaijan until 2050.
In regards to the food security, Azerbaijan needs to build a strategy focused on this issue – how to meet the growing demand of the country for food supplies, he added.
Not less important is increasing the processing capacity of the agricultural sector, he said.
For instance, in the developed countries, with processing each ton of agricultural products, added value increased to $200. In developing countries, this figure stands at $50. By increasing the processing capacity, Azerbaijan can also obtain the same added value, which is one of the components of competitiveness. This difference between the developed and developing countries can be explained with the fact that the developed countries process 98 percent of the agricultural products, whilst developing countries including Azerbaijan process only 30 percent. Therefore, Azerbaijan has a great potential to increase processing, which will not only ensure food security of the country, but also obtain high added value, said Gasimli.
The development of agriculture is one of the priority directions for Azerbaijan to boost the non-oil sector and to diversify its national economy. The country achieved 6.6-percent growth in the volume of agricultural production in 2015.
Azerbaijani government supports agricultural sector at the state level and implements various agricultural projects aimed at increasing volume of domestic production and decrease dependence on the imported goods.
Earlier, The World Bank endorsed the 2015-2020 Country Partnership Framework for Azerbaijan. The framework represents a five-year joint strategy of the WB Group, which is comprised of the International Bank for Reconstruction and Development, the International Finance Corporation and the Multilateral Investment Guarantee Agency.
The CPF aims at supporting Azerbaijan on its path toward sustainable, inclusive and private sector-led growth by focusing on two areas: public sector management and service delivery and economic competitiveness.
In the turbulent global economic environment which calls for efficiency in public spending and for a new model of growth, the CPF will help Azerbaijan to maintain and enhance its achievements on the twin goals and strengthen the country's resilience to external shocks.
Moreover, 4 percent growth is forecast by the WB in Azerbaijan in 2016-2018.
Enjoying advantageous geographic location Azerbaijan has all possibilities to increase food security and production in the country.
---
Fatma Babayeva is AzerNews' staff journalist, follow her on Twitter: @Fatma_Babayeva
Follow us on Twitter @AzerNewsAz