Baku slams U.S. for remarks on human rights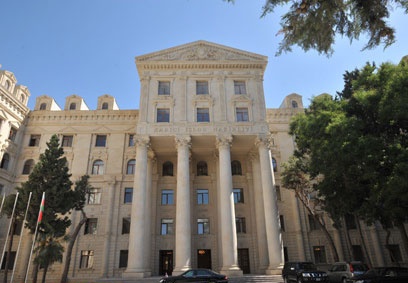 By Sara Rajabova
Baku has criticized the U.S. Department of State for baseless remarks on human rights situation in Azerbaijan.
"The remarks made by the spokesperson of the U.S. Department of State, Jen Psaki, on the human rights situation in Azerbaijan don't reflect objective realities," Azerbaijan's Foreign Ministry spokesman, Hikmet Hajiyev told Trend Agency on December 2.
Psaki said in a daily briefing on December 1 that her country is deeply concerned about recent restrictions on civil society activities in Azerbaijan and urged Baku to respect the universal rights of its citizens and allow them to freely express their views.
Hajiyev said Psaki's remarks are part of an attempt to deliberately politicize human rights issues and turn them into a pressure tool.
"The rule of law and the fundamental rights and freedoms are provided in Azerbaijan in accordance with the constitution, laws and international documents joined by the country," Hajiyev said.
He went on to add that Azerbaijan consistently continues democratic development, and there is no need for intervention and "recommendations" from the outside.
Hajiyev further noted that the racial controversies in the U.S. have gained a systemic nature, and as a result, the confrontation in the American society has deepened, there have been flaws in the judicial system, the police and law enforcement agencies use force disproportionately, violence has increased and there are serious problems in other areas.
"This is evidenced by the reasons of mass protests in Ferguson and other U.S. cities, and the violence they were followed by. We believe that the Department of State representative, before making biased statements on Azerbaijan, should answer the world community's concerns over the human rights situation in the U.S." Hajiyev said.
He also added that the U.S. should abandon such inappropriate statements, acting as a "patron" of human rights at international level, and pay more serious attention to human rights issues on its soil in accordance with international commitments.