18 November 2014 14:45 (UTC+04:00)
783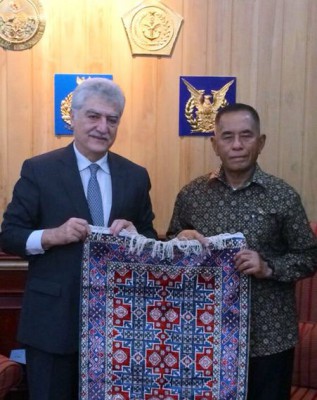 By Amina Nazarli
Azerbaijani Ambassador to Indonesia Tamerlan Garayev and Indonesian Defense Minister Ryamizard Ryacudu met to mull prospects of defense cooperation and cooperation in the defense industry sphere on November 17.
The meeting was attended by senior officials of the defense ministry of Indonesia.
Garayev said there was good potential for the development of bilateral relations in this field.
The diplomat also expressed satisfaction with the development of bilateral relations between Azerbaijan and Indonesia in political and economic fields.
Garayev informed the Indonesian minister on Armenia-Azerbaijan, Nagorno-Karabakh conflict and Khojali genocide and thanked the Indonesian side for supporting Azerbaijan in settlement of the problem.

Ryacudu, in his turn, stressed his country's keenness to cooperate in every field including defense sector and expressed significance for expanding relations in this sphere.

Noting the clear position of Indonesia in settlement of the Nagorno-Karabakh conflict, the minister said Indonesia stands for the peaceful settlement of conflict and inviolability of borders in terms of internationally recognized framework.

The draft Memorandum of Understanding on cooperation in defense sector between Azerbaijan and Indonesia was presented to the minister.

Indonesia recognized Azerbaijan's independence on December 28, 1991. Bilateral relations between the two republics were established on September 24, 1992.
The embassy of Azerbaijan in Indonesia was established in 2006, while the embassy of Indonesia in Azerbaijan was opened in 2010.
Both nations are the member of Organization of Islamic Cooperation and Non Aligned Movement.
The trade between Azerbaijan and Indonesia is mostly related to the energy sector, as Azerbaijan emerged as the second biggest supplier of crude oil to Indonesia after Saudi Arabia. The bilateral trade between Azerbaijan and Indonesia reached $101 million in 2007 and increased to $1.76 billion in 2011. The trade balance is heavily in favor to Azerbaijan, as the trade volume mainly dominated by Indonesian imports for Azerbaijan's oil.