Azerbaijan, Cambodia to boost relations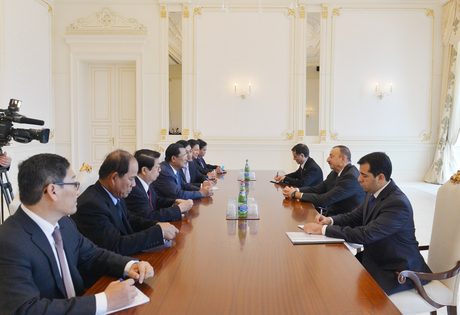 By Jamila Babayeva
Azerbaijan and Cambodia held high-level talks during which the sides voiced their readiness to boost bilateral relations in all areas.
Azerbaijani President Ilham Aliyev received the Cambodian delegation led by Prime Minister Hun Sen on April 21.
The Head of State stressed the historical importance of the first visit of the Cambodian Premier to Azerbaijan in terms of developing bilateral cooperation between the two countries, and expressed his confidence that the visit would be successful, AzerTag state news agency reported.
President Aliyev said there were good opportunities for developing bilateral cooperation and establishing strong partnership relations.
The Head of State expressed hope that the Cambodian delegation's visit to the country would create good opportunities to discuss bilateral cooperation not only in political, but also in economic area.
Premier Hun Sen conveyed the greetings of King of Cambodia Norodom Sihamoni to President Aliyev.
Expressing satisfaction with his visit to Azerbaijan, the Cambodian Prime Minister said the ongoing rapid economic developments in Azerbaijan had left a deep impression on him.
Noting that this year will mark the 20th anniversary of the establishment of diplomatic relations between Azerbaijan and Cambodia, Hun Sen said his country was interested in expanding bilateral ties with Azerbaijan.
The Premier stressed the importance of boosting cooperation between the two countries within international organizations.
Hun Sen also invited President Aliyev to his country.
The Head of State thanked King Sihamoni for his greetings and asked Hun Sen to communicate his greetings to the King of Cambodia.
As part of the visit to Azerbaijan, Hun Sen met with Prime Minister Artur Rasizade.
Speaking at the meeting, Rasizade highlighted Azerbaijan`s economic achievements and regional developments.
Referring to the Nagorno-Karabakh conflict, Rasizade said 20 percent of Azerbaijan`s lands had been under Armenia's occupation, adding that over a million Azerbaijanis became refugees and IDPs as a result of Armenia`s military aggression.
He expressed regret over the fact that "although negotiations to find a solution to the dispute have been going on for many years, no progress has been made".
"This proves that there is a double standard approach to this conflict," Rasizade added.
He hailed the cooperation between the New Azerbaijan Party and the Cambodian People's Party, and noted the importance of developing economic relations between the two countries.
"In order to achieve this, we need to set up bilateral commissions and embark on joint projects," Rasizade added.
The Cambodian Premier said he first visited Azerbaijan 32 years ago, adding that the country had made great achievements during its independence.
He expressed confidence that his visit would push Cambodia-Azerbaijan relations to a new level.
On the Nagorno-Karabakh conflict, he said his country recognized Azerbaijan`s territorial integrity. "Our position on Azerbaijan`s territorial integrity remains unchanged. We never support any violation of territorial integrity."
He said Cambodia was interested in developing relations with Azerbaijan in all areas and was planning to open its embassy in Azerbaijan in the near future.
He invited Azerbaijan to invest in Cambodia`s agricultural sector. "We invite Azerbaijan to make investment in rice production and processing in Cambodia. We can produce rice together, and get access to global markets."
"Cambodia fully meets its domestic demand for rice, but because of the lack of financial resources we are unable to get access to the world markets," Sen added.
As a part of the meeting, Azerbaijan's Ministry of Foreign Affairs and Cambodia`s Ministry of Foreign Affairs and International Cooperation signed a Memorandum of Understanding (MoU) on bilateral consultations.
The MoU was inked by Foreign Minister Elmar Mammadyarov and Cambodia's Deputy Prime Minister and Minister in Charge of the Office of the Council of Ministers Sok An.
Parliamentary Speaker Ogtay Asadov also met the delegation led by PM Hun Sen.
Asadov stressed the importance of boosting bilateral relations and said Azerbaijan was ready to develop the overall cooperation with Cambodia.
Expressing confidence that the visit would contribute to expanding cooperation between the two countries, Asadov stressed the importance of establishing friendship groups in the legislative bodies of both countries.
Asadov also highlighted Azerbaijan`s development over the last 10 years.
Sen said Cambodia was interested in boosting relations with Azerbaijan and stressed the importance of a document aimed at encouraging investments that will be signed between the two countries.