Khojaly martyrs' monument complex opens in Ankara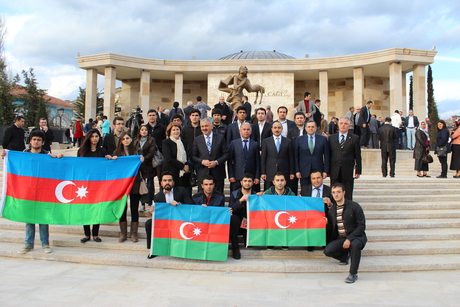 By Jamila Babayeva
The Khojaly Monument and Khojaly Museum Complex opened in Kizilcahamam in the Turkish capital of Ankara.
The museum opened on the anniversary of March 31, which is the Day of Genocide of Azerbaijanis.
Head of the Socio-Political Affairs Department at the Azerbaijani Presidential Administration Ali Hasanov, director of Azerbaijan Institute of History, MP Yagub Mahmudov, MP Javanshir Feyziyev, head of Kizilcahamam Municipality Coskun Unal, head of Kizilcahamam Executive Authorities Mustafa Cit, head of Directorate at the Turkish Ministry of Foreign Affairs Tahsin Tunc Ugdul, heads and representatives of diplomatic corps and international organizations in Ankara, local political and public figures, Azerbaijani students, and journalists attended the event.
Speaking at the ceremony, Hasanov thanked the Turkish government and the leadership of Kizilcahamam for their assistance in erecting the memorial, saying the Khojaly genocide was "the common pain of the entire Turkic world".
He also stressed the necessity of making the truth about the Armenians` crimes known to the world community.
Saying there were three Khojaly monuments in Turkey, he added that eight municipal assemblies in the country had recognized the Khojaly tragedy as an act of genocide.
Hasanov expressed hope that the Grand National Assembly of Turkey would also recognize the Khojaly tragedy as genocide.
Azerbaijani Ambassador Faig Baghırov, in turn, said young people had a great role to play in promoting the international community's awareness of the Armenians` crimes against the Azerbaijani people.
Yagub Mahmudov, head of Kizilcahamam Municipality Coskun Unal, and head of Kizilcahamam Executive Authorities Mustafa Cit also made a speech at the ceremony.
On February 25-26, 1992, the town of Khojaly, the second largest town in the Nagorno-Karabakh region of Azerbaijan, came under intense fire from the towns of Khankendi and Askeran already occupied by the Armenian armed forces.
613 civilians, including 106 women, 70 elderly, and 83 children were killed in the massacre, and a total of 1,000 civilians were disabled. Eight families were exterminated, 25 children lost both their parents, and 130 children lost one parent.
Moreover, 1,275 innocent people were taken hostage, and the fate of 150 of them remains unknown. Civilians were shot at close range, scalped, and burned alive. Some had their eyes gouged out and others were beheaded.