14 November 2013 18:25 (UTC+04:00)
1 440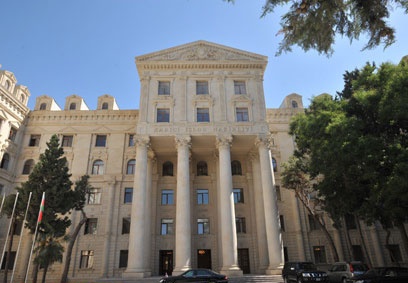 By Sara Rajabova

The name of the famous Italian singer Al Bano was deleted from the list of undesirable persons of the Azerbaijani Foreign Ministry.

This step was taken on the appeal of the singer to the Azerbaijani side with the corresponding request.

Al Bano was included in the list of undesirable individuals by the Foreign Ministry for his illegal visit to the territories occupied by Armenia.

In his letter, he expressed regret over the inclusion of his name on a list of undesirable persons.

Al Bano said that he was not aware of the Armenian-Azerbaijani conflict, and expressed his deep respect and sympathy for Azerbaijan.

He said that his visit did not pursue any political goals. Al Bano also said that he is a singer and it would be an honor to him to visit again Azerbaijan and present his music to the beautiful people of Azerbaijan.

Earlier, four foreign citizens blacklisted by Azerbaijan's Foreign Ministry for illegally visiting the Azerbaijani territories occupied by Armenia were removed from the list.

They pointed out in their appeals to Baku that they had been taken to Azerbaijan's occupied territories by deception.

Unauthorized visits to Nagorno-Karabakh and other regions of Azerbaijan occupied by Armenia are deemed illegal and individuals paying such visits are included in the 'black list' of the Azerbaijani Foreign Ministry.

The Foreign Ministry recently released a list of 335 people declared 'persona non grata' over illegal visits to the Armenian-occupied territories.

Azerbaijan has repeatedly warned foreign officials and diplomats about visits to its territories occupied by Armenia, saying this contradicts international law. The Foreign Ministry has stated that such visits, paid without prior notification of the relevant authorities of Azerbaijan, are illegal and damage the settlement process of the Nagorno-Karabakh conflict.

Armenia and Azerbaijan fought a lengthy war that ended with the signing of a fragile ceasefire in 1994. More than 20,000 Azerbaijanis were killed and over 1 million displaced as a result of the large-scale hostilities. Since the war, Armenian armed forces have occupied 20 percent of Azerbaijan's territory, including Nagorno-Karabakh and seven surrounding regions. Armenia continues the occupation in defiance of four UN Security Council resolutions calling for immediate and unconditional withdrawal.
Related News