Water desalination plant on Caspian coast ready for full-scale operation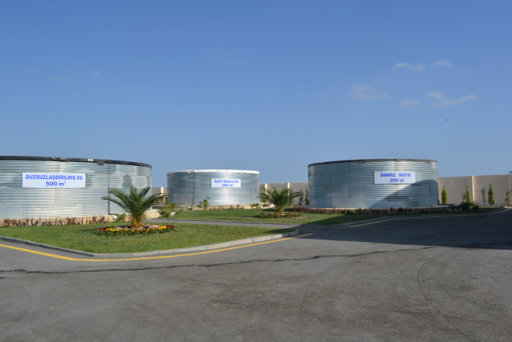 By Nigar Orujova
A new major seawater desalination plant on the Caspian Sea coast in the Khidirli village of Azerbaijan's Salyan region is ready for full-scale operation, the Ecology and Natural Resources Ministry said on September 20.
The project is strategically important for eliminating the shortage of water that may arise in the future.
The implementation of a pilot project on building such a plant started earlier this year. The plant, which was initially working in the test mode, is equipped with up-to-date equipment. After the test run, it began operating in regular conditions.
The plant's capacity is some 1,000 cubic meters per day at the initial stage with the infrastructure capacity of up to 20,000 cubic meters per day.
Some 200 meter-long and eight meter-wide dam, located five meters above sea level, was built to collect water from the sea.
The plant currently produces 1,000 cubic meters of desalinated water daily. This water is used for watering seedlings at the plant, as well as trees planted near the village under a landscape gardening project.
This water is also to be used to meet the needs for drinking water of the Khidirli village in the future. However, it should be re-mineralized to be used for drinking purposes.
The plant has a lining-out nursery, equipped with an automatic watering system using desalinated seawater, which allows to grow one million trees and bushes a year. A meteorological station measuring temperature and humidity, wind speed and direction, solar radiation, and rainfall was also built at the plant.
The nursery is expected to create suitable conditions to achieve significant progress in improving the environment by planting new greenery in the capital Baku and its suburbs.
The lack of drinking water is one of the alarming problems in the present-day world. The shortage of fresh water resources is a crucial issue in many countries and the importance of the issue will only increase in the future.
Desalination of seawater is used in dry-land countries, and over 800 large desalination plants operate in the world.
The issue of seawater desalination was raised at a Cabinet of Ministers meeting in 2010. Taking all the related measures was entrusted to the Ecology and Natural Resources Ministry, which prepared a relevant Action Plan.
Though water shortage is not alarming in Azerbaijan, some seaside regions will gain more opportunities, including agricultural ones, if more suitable water is available.