29 July 2013 14:47 (UTC+04:00)
1 286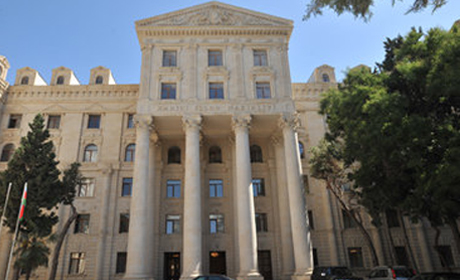 By Sara Rajabova
Azerbaijan condemns the terrorist attack against the Turkish embassy in Somalia, Azerbaijani Foreign Ministry Spokesman Elman Abdullayev told Trend news agency.
Abdullayev said Baku is deeply concerned about this terrorist attack.
"Baku expresses its deepest condolences to the family of the deceased security officer of the Embassy and wishes a speedy recovery to three embassy personnel - victims of the terrorist attack," he noted.
According to Abdullayev, Azerbaijan has always been, is, and will be next to fraternal Turkey and expresses its full support for Ankara in its countering the terrorism.
A car bomb in the capital of Somalia - Mogadishu on Saturday rammed the gate of a residential compound belonging to the Turkish embassy. Later on the local police reported that the target of a car packed with explosives was this building.
According to the Turkish government, one Turkish policeman was killed when the mission's guards clashed with the attackers as they attempted to enter the complex. Also, the three Turkish security officers were wounded in the Mogadishu bombing attack.
Turkey has strongly condemned a bombing attack on the Turkish mission in the Somali capital on Saturday in the "strongest terms possible," maintaining that it would continue to provide help to the country.
Turkish Prime Minister Recep Tayyip Erdogan, who became the first non-African leader to visit Somalia in nearly 20 years when he traveled there in 2011, said the attack was carried out by "supposed Muslims."
The Islamist militia al-Shabaab with connections to al-Qaeda claimed responsibility for an attack.
Also, Somalia government has condemned the attack. A Somali presidential spokesman said the attackers wanted Turkey to stop helping the country.
Turkey is a key player in Somalia, providing humanitarian aid and state-building assistance to the war-torn nation.
Related News