AzerNews named Company of the Year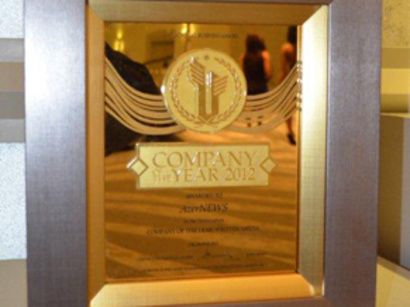 AzerNews, Azerbaijan's first English language newspaper, was recognized as the best company in the "Print Media" nomination of the prestigious "Company of the Year" award on Wednesday, in a solemn ceremony held at Jumeirah Bilgah Beach Hotel outside the capital Baku.
The national award is conferred to companies that have achieved great success in various sectors of the economy, contribute to a positive image of Azerbaijani business and the country's integration into the world economy, and enhance the well-being of citizens.
The award enhances the competitiveness of the Azerbaijani economy and attracts the attention of the public and world business community to outstanding local companies, whose activities are in line with international standards.
The "Company of the Year" award was first conferred in 2006. Since then, the award has established itself as a public institution which not only highlights the best companies as exemplary, but also creates a new image of Azerbaijani business and promotes new standards of business ethics in the country.
The award was founded by monthly business magazine Consulting & Business, which is published by MiniMax Media Holding.
AzerNews, published since 1997, is in the vanguard of the country's print media market. AzerNews is a member of the World Association of Newspapers and News Publishers (WAN-IFRA), the largest and most prestigious organization in the industry. The WAN-IFRA brings together 18,000 publications and 15,000 websites of news publishers and other industry players from around the globe.