10 January 2019 10:20 (UTC+04:00)
2 179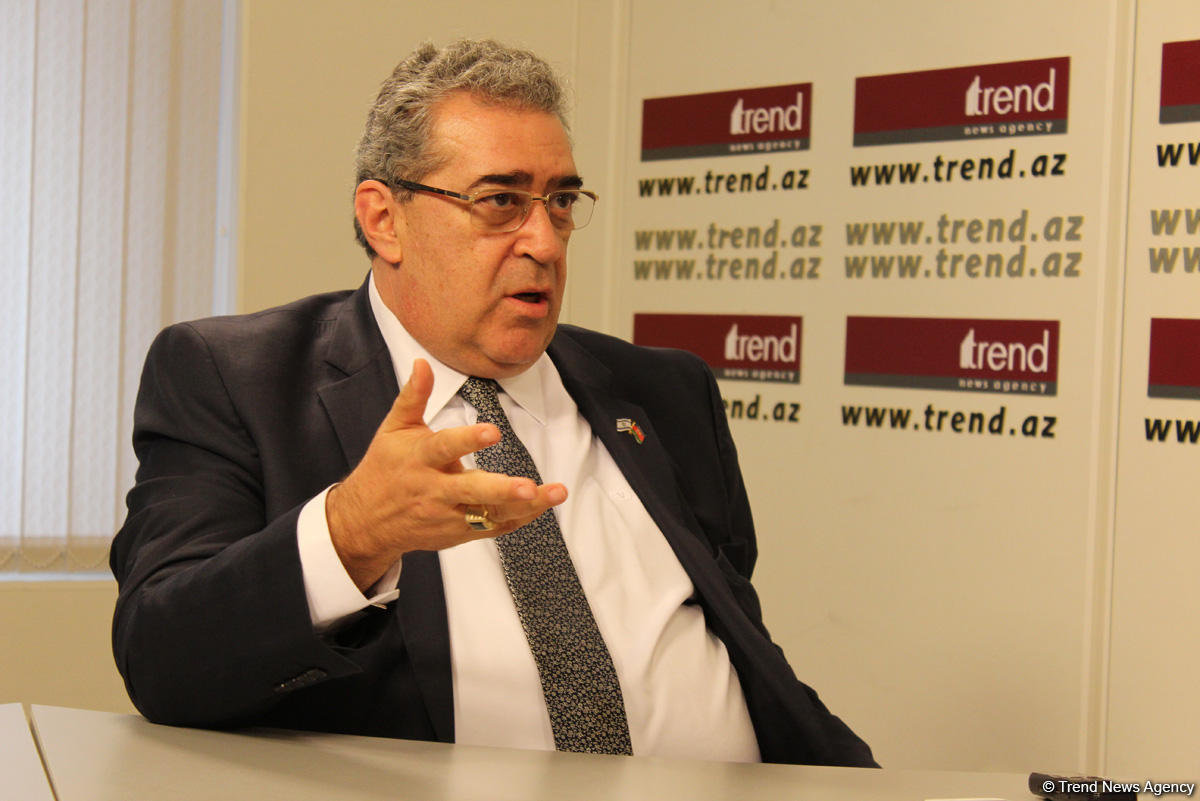 By Leman Mammadova
Azerbaijan and Israel, the two strategic partners, maintain close bilateral ties and are keen to further strengthen and expand their cooperation.
The relations between Azerbaijan and Israel will develop even more rapidly in 2019, head of the Israel-Azerbaijan International Association AzIz, Lev Spivak, said in an interview with the Regional Public Charitable Foundation of Mountain Jews STMEGI, Trend reported on January 9.
He noted that 2018 was a success for both countries.
"Two of the most important events took place last year. The first meeting of the Azerbaijani-Israeli intergovernmental commission took place in Israel in March. Taxes Minister Mikayil Jabbarov headed the Azerbaijani delegation. I am very pleased that the delegation members found time and met with AzIz members and activists. The second event is the visit of Defense Minister Avigdor Lieberman to Azerbaijan," he added.
Spivak noted that last year was also a breakthrough year in the field of tourism, and many Israelis visited Azerbaijan, saying that "the number of flights between Baku and Tel Aviv has increased dramatically."
"I hope that this trend will continue," he added.
As for the plans of AzIz for the future, Spivak also said that it is planned to expand the geography of events in 2019.
"We have scheduled events in Russia and Germany. They will be associated with the anniversaries of 20 January tragedy and the Khojaly tragedy, as well as the Novruz holiday, the independence days of Israel and Azerbaijan, etc. This year we plan to hold the next, third congress of AzIz. High-ranking officials of Azerbaijan and Israel have already confirmed their participation," noted Spivak.
In addition, Spivak emphasized that AzIz plans to begin regular work on the organization of events with the participation of academics, historians, political scientists.
"We will establish links with major universities in the world," he said.
According to the Azerbaijani State Customs Committee, the trade turnover between Azerbaijan and Israel amounted to $671.6 million in 2017, of which about $32.7 million accounted for the import of Israeli products. Azerbaijan holds 40-45 percent share in energy imports of Israel.
Azerbaijan and Israel also have reliable military partnerships. Israel plays role of an important ally in supplying Azerbaijani army with modern weapons. Azerbaijan was among the top three countries in the list of Israeli arms importers in 2017. Azerbaijan has received $ 5 billion worth defense equipment from Israel in 2016.
Recently, Azerbaijan has started production of a new unmanned aerial vehicle (UAV) - "Pegasus 120." The new UAV is produced jointly with the Israeli company Aeronautics at AZAD Systems Co. production branch of Azerbaijan's Ministry of Defense Industry.
Tourism is one of the areas where Azerbaijan and Israel successfully develop cooperation. The number of tourists coming to Azerbaijan from Israel is growing, and all tourists visiting Azerbaijan return home with the best impressions.
Israir Airlines & Tourism Ltd., an Israeli airline based at Sde Dov Airport (SDV) in Tel Aviv, is carrying out flights to Baku three times a week, as part of tourist packages. The direct flight is of great significance in terms of mutual increase in tourism turnover.
Azerbaijan has a huge potential for cooperation with Israel in economic sphere, particularly in such non-oil sectors as agriculture, pharmaceuticals and IT. Agriculture in Israel is a highly developed industry, while the country uis listed among world leaders in advanced agricultural technologies, regardless the fact that the geography of the country is not naturally favorable for agriculture.
Israel recognized the independence of Azerbaijan very shortly after the official dissolution of the Soviet Union. Diplomatic relations between Azerbaijan and Israel were established in 1992. Since gaining independence in 1991, Azerbaijan has established a position of one of Israel's closest friends in the Muslim world. The strategic relationship included cooperation in trade and security matters, cultural and educational exchanges.
The partnership between the two nations is based not only on political, economic and energy cooperation, but also on shared cultural values, due to a fact that a large Jewish community lives in Azerbaijan. Today's friendly relations between Azerbaijan and Israel are built on centuries of Jewish-Azerbaijani coexistence. Estimated 9,000 Jews in the country are "fully part" of Azerbaijani society.
Several synagogues are operating in the capital of Azerbaijan, as well as in Guba and Oguz regions. Synagogue, opened in Baku in 2003, is one of the largest in Europe. In September 2003, the first Jewish school was opened in Baku.
In 2016, a branch of Baku International Multiculturalism Centre (BIMC) has been opened in Israel aimed at increase of the international community's awareness of Azerbaijan's and Israel's history and culture.
---
Follow us on Twitter @AzerNewsAz
Related News