Speaker: Failure to resolve Nagorno-Karabakh conflict is a a threat to peace and stability [PHOTO]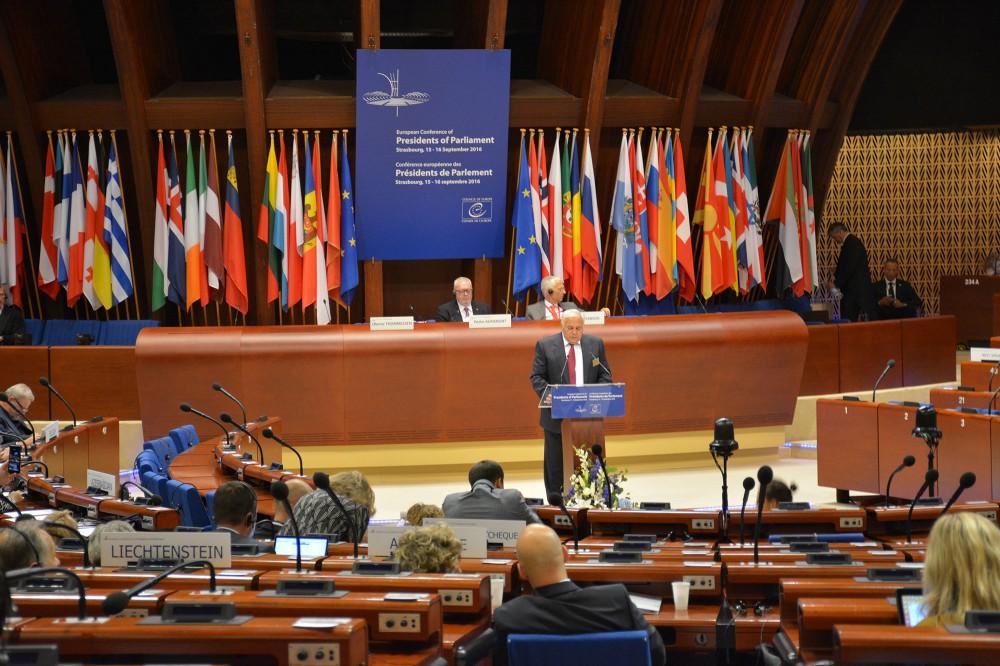 By Azertac
"Failure to resolve the Armenia-Azerbaijan Nagorno-Karabakh conflict is a a threat to peace and stability," said Ogtay Asadov Azerbaijani Parliament Speaker, as he addressed the meeting of Speakers of Parliament of the Council of Europe member states on "Parliaments' joint action against hate and racism" in Strasbourg, France.
He noted that the attempts to associate Armenia`s hostile policy against Azerbaijan with religious reasons did not have any grounds. "20 per cent of Azerbaijani territories, Nagorno-Karabakh and seven adjacent regions have been occupied by Armenia for about 25 years and ethnic cleansing was conducted on these lands. More than one million Azerbaijani civilians have been displaced from their native lands, from the occupied Azerbaijani territories," Asadov said.
The Parliament Speaker expressed his regret that international efforts to solve the conflict had not yielded any results so far because of non-constructive and destructive position of Armenia. "The international community must finally demonstrate its resolute stance on this issue, and all conflicts, including the Nagorno-Karabakh dispute must be resolved on the basis of universally recognized norms and principles of international law, in particular within the territorial integrity of our country."
Asadov hailed the world parliaments' cooperation both in bilateral format and within international organizations in addressing global problems facing humanity.
"Though promoting mutual understanding and tolerance of each individual country is extremely important, it is not enough yet. Today ensuring the mutual respect, trust and equality of rights among the societies and nations belonging to different civilizations is of crucial importance. In this regard different cultures in Azerbaijan have completed and enriched each other in a harmonious way throughout the history," he said.
"Representatives of various nations and religions have always enjoyed the opportunity to live in brotherhood and good neighborliness in our country. The traditions of tolerance and multiculturalism, which are the national wealth of the Azerbaijani people, have been raised to the level of state policy and became a way of life. Today Azerbaijan is one of the world-renowned centers of multiculturalism. The year 2016 has been declared a Year of Multiculturalism in the country by the Azerbaijani President," Asadov added.
Asadov also held separate meetings with speaker of the Grand National Assembly of Turkey Ismail Kahraman and chairman of the Chamber of Deputies of the Czech Parliament Jan Hamáček in Strasbourg.
They discussed prospects for development of relations and inter-parliamentary cooperation between their countries.
--
Follow us on Twitter @AzerNewsAz