15 July 2020 19:45 (UTC+04:00)
961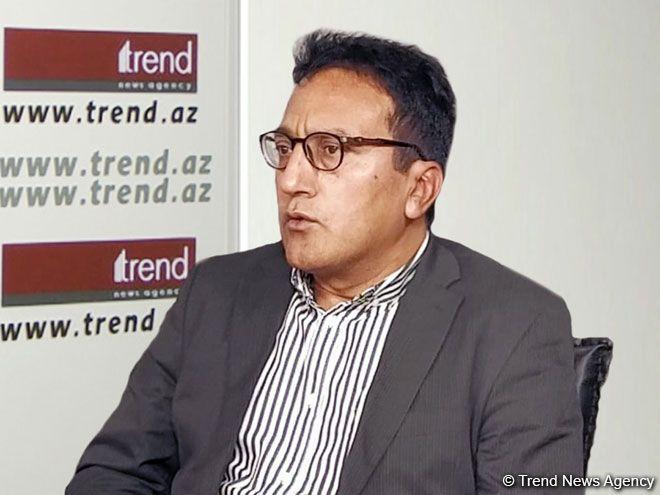 By Trend
Latest Armenian aggression on Azerbaijan is no doubt a big challenge for the world powers and forums like UN, European Union, OIC, Non Aliened Movement and others, Editor of Pakistan in the World magazine Tazeen Akhtar told Trend.
Starting from the afternoon on July 12, units of the Armenian armed forces, grossly violating the ceasefire in the direction of the Tovuz region of the Azerbaijani-Armenian state border, shelled Azerbaijani positions using artillery mounts.
Akhtar noted that Armenia has been holding Azerbaijani territories under occupation for a long time, and now they have started attacks as well in which many innocent civilians have born irreparable losses of life and property in the border areas.
"Further, many soldiers have to sacrifice their precious lives for the defense of the motherland," he said.
"Azerbaijan has always sought a peaceful solution to Nagorno-Karabakh conflict. These territories are part of Azerbaijan historically. But Azerbaijan never resorted to fight or war-like options only to keep the peace in the region. Azerbaijan reserves the right to do anything that can restore its sovereignty over these territories," Akhtar said.
He said the dialogue is the best way to solve the issues, and Azerbaijan has been ready for that always but the history of this process so far tells the other story about Armenia.
"The occupant tried to avoid negotiations and violated its own commitments many times. Now the occupant turns into aggressor that is enough to raise concerns about the peaceful solution to this problem. It means Armenia will never be serious in negotiations. Negotiations process actually comes to its end when aggression is adopted. The only possibility to keep Armenia from endangering more innocent lives is to impose sanctions and bound this non serious regime to obey international laws and conventions," Akhtar said.
Akhtar also emphasized that international organizations including World Health Organization (WHO) are supposed and expected to take notice of Armenian aggression.
---
Follow us on Twitter @AzerNewsAz
Related News