Russian embassy not entitled to comment on Azerbaijani court's decision: press-attache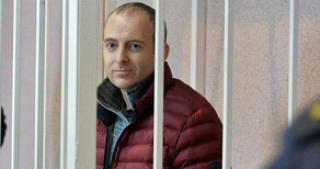 By Rashid Shirinov
The Russian Embassy in Baku refused to comment on the decision taken by the Azerbaijani court with regard to Alexander Lapshin, a citizen of Russia.
"The Russian Embassy does not consider itself entitled to comment on the decision of the Azerbaijani court," press attaché of the Embassy Denis Apashkin told RIA Novosti on July 25.
The Russian Embassy in Baku will provide the necessary assistance to Alexander Lapshin, citizen of Russia and Israel arrested in Azerbaijan, if he requests the transfer Apashkin added.
Last week, the Baku Court on Grave Crimes sentenced the blogger Lapshin to three years of imprisonment on charges of his illegal visits to the Armenia-occupied Azerbaijani lands and a criminal conspiracy with the Armenians living there.
"The Embassy is in contact with Lapshin's lawyer and family. The Embassy will continue to participate in the protection of Lapshin's rights within its competence," said Apashkin.
Commenting on the possible extradition of Lapshin to Russia, the press attaché said that Russia and Azerbaijan have an agreement to transfer convicted persons to serve their sentence in the country of their citizenship.
"If Lapshin wants to take the opportunity provided for by this agreement, the Embassy will provide him with all necessary assistance," Apashkin said.
Earlier, Lapshin's lawyer Eduard Chernin told Trend that the issue of his extradition is not on the agenda, as it is impossible as long as the court decision doesn't come into force.
Blogger Lapshin violated Azerbaijani laws on state border in April, 2011 and October, 2012. Helped by his accomplices in the occupied territories, Lapshin paid a number of visits to Azerbaijan's occupied lands, where he voiced support for "independence" of the illegal regime, and made public calls against Azerbaijan's internationally recognized territorial integrity on April 6 and June 29, 2016.
The blogger was arrested in Minsk in late 2016 and transferred to Baku in February 2017.
By the decision of the Baku Court on Grave Crimes, Lapshin will serve his three-year sentence in a general regime colony.
Unauthorized visits to Nagorno-Karabakh and other regions of Azerbaijan occupied by Armenia are considered illegal, and any individuals paying such visits are included in the Azerbaijani Foreign Ministry's "black list."
---
Rashid Shirinov is AzerNews' staff journalist, follow him on Twitter: @RashidShirinov
Follow us on Twitter @AzerNewsAz