5 November 2015 10:00 (UTC+04:00)
1 786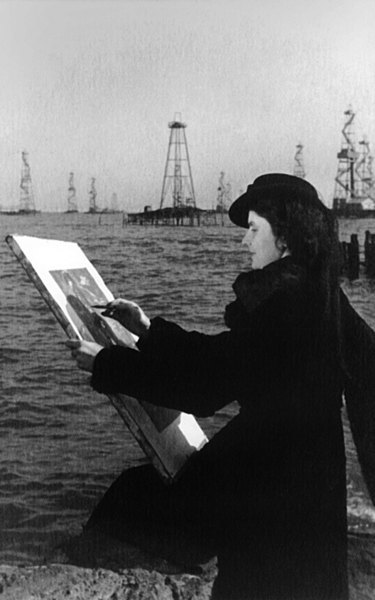 By Amina Nazarli
Oil has changed life in Baku over last century. It has brought wealth, fame and an extraordinary boom to the "city of winds," which is known as an ancient civilization dating back to 5500 BC. Baku would see social prosperity in all its colors, glamour, and modernity. Life is different, life is beautiful here...
"Black gold" changed many lives in this ancient land, but for a little girl it was a life-altering milestone. With her bright talent, she made a real revolution in the Muslim-majority Azerbaijan.
Talented artist Maral Rahmanzade became the first woman in Azerbaijan to depict offshore oil. Struck by the majesty of the fuel, she even settled on the Oil Rocks to get a true feeling of the lives of oilmen. This brave step by the young Azerbaijani girl, born in the heart of Baku in 1916, might still be puzzling, but it is a part of history.
Throwing off the veil that she wore as a tribute to Muslim traditions, Rahmanzada immersed herself in art, becoming the first Azerbaijani female artist to get a professional art education.
At university in Moscow, all of her teachers noticed Maral's talent, and her thesis devoted to Azerbaijani women was highly appreciated.
However, after graduating from university, though she was suggested to work as a book illustrator at one of the Moscow's publishing houses, she preferred to return to her homeland Baku.
Oil played a significant role in her creativity and she created such masterpieces as "The fountain encased in tubes," "Tanker out to the open sea," "On the new oil rig" and "Oil." The latter was enthusiastically welcomed by art lovers in 1947.
The artist was quite sensitive and critical of her own works. She felt a great feeling of responsibility for properly conveying her impressions, which made her go to live and work together with the heroes of her future works – to the Oil Rocks.
Prominent Azerbaijani artist Mikayil Abdullayev noted that Maral was one of the first artists to visit the Oil Rocks. Many old oilmen remembered this beautiful young woman in her skintight jumpsuit with an canvas in her hands, who experienced both calm weather and tumultuous storms together with them.
"She wanted to see for herself the extreme and uneasy conditions in which these brave people work and how they live in the midst of the raging Caspian," he said.
Shortly, Maral's more than 70 works were successfully exhibited in Moscow, and then in London's Royal Academy of Arts gallery alongside other outstanding artists.
The British press was immediately interested in her works devoted to "black gold," and wrote a story about Maral in a book released in London.
Over time, Maral became a master in the national graphic art and her works including "In our Caspian Sea," "Azerbaijani Women," "My Motherland," "My Sisters," became the most significant.
The bright and multi-faceted creativity of Maral Rahmanzadeh would gain popularity far beyond the borders of Azerbaijan and CIS countries. Her works adorn many world-renowned museums, and enjoy the same success in the most "high-profile" and authoritative exhibitions throughout the world.

Hardly anyone can match her in the number of trips throughout the country and abroad. She took part at exhibitions in more than 50 countries.
For great merit in the development of national fine art, she was awarded many orders and medals. She is a People's Artist of Azerbaijan, State Prize winner, and holder of the "Shohrat" ("Glory") order.
--
Amina Nazarli is AzerNews' staff journalist, follow her on Twitter: @amina_nazarli

Follow us on Twitter @AzerNewsAz
Related News