30 May 2014 17:14 (UTC+04:00)
1 967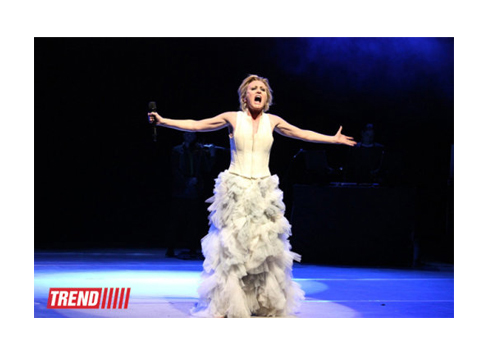 By Nigar Orujova
World famous French singer Patricia Kaas held a magnificent concert in Baku on May 29 as part of her world tour.
The concert called "Kaas Chante Piaf" ("Kaas Sings Piaf") was dedicated to the memory of the French diva Edith Piaf. It was held at the Heydar Aliyev Palace.
During "Kaas chante Piaf", which was focused mainly on 15 of Edith Piaf's greatest songs, Kaas' emotional voice commemorated 50th anniversary of Piaf death.
Considered a national treasure of France who is able to revive world's interest in French culture, Kaas is often compared to Edith Piaf.
After 20 years of singing and gaining international success, Kaas is still considered Piaf's dignified heiress to audiences across the world.
"I will sing songs of Edith Piaf, whose life is full of tragic moments, and I will try to show her world through my emotions," Kaas said before the concert.
"Performing Piaf's songs is one thing, while interpreting them is quite another. Here we need to go through her experiences, sadness and courage," she said.
The performance was theatrical as was the life of Piaf. There was a hanger on stage with a variety of women' accessories. Patricia dressed them one by one during the concert turning into different women with their own characters and inner worlds.
The show had an innovative stage design, which included a video installation with a unique light show.
Patricia had put in her soul in every song and lived moment of the each song and tried to convey these feelings to the audience.
Throughout the evening Kaas was very excited, mischievous and explosive, constantly joking and dancing. Professional actors could envy the incredible artistry and playfulness of Kaas.
During the two-hour show, Patricia Kaas sang the immortal compositions of Edith Piaf in modern arrangement, and her own hits.
The show has already been held in the world's most prestigious venues such as the Royal Albert Hall in London, Carnegie Hall in New-York, Olympia in Paris, Operett Theatre in Moscow, and Sejeon Cultural Center in Seoul.
Kaas's last performance in Baku was in 2008. Back in Baku in 2014, she was shocked with the changes in capital during the last couple of years. "When I visited your city, I couldn't believe my own eyes. The city has changed so much; it has become so beautiful and modern that I cannot describe it in words. I fell in love with your city and your people!"
In Baku, Kaas also visited the Heydar Aliyev Center and the exhibitions underway there.
Related News