23 December 2013 16:18 (UTC+04:00)
1 727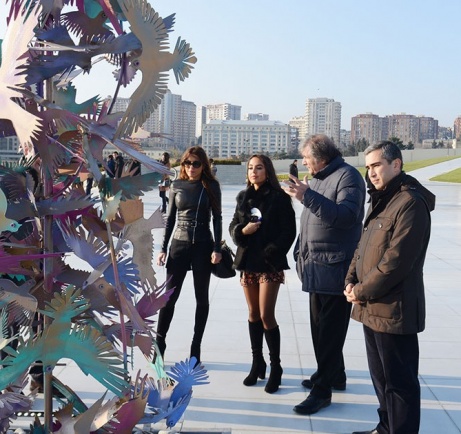 By Nazrin Gadimova
An amazing exhibition was held at the Heydar Aliyev Cultural Center on December 21.
Vice President of the Heydar Aliyev Foundation Leyla Aliyeva attended the exhibition which is a part of the "KUKNAR" (Christmas Tree) International Art Contest.
Christmas trees decorated in a completely new style were presented during the competition, which was held for the first time. Participating in the two-month contest, about 18 artists and architects created Christmas trees of unusual shapes, some of which more than three meters high.
Speaking at the event, Head of the Heydar Aliyev Cultural Center Anar Alakbarov said the event, which brought together art lovers, artists, and architects, will allow others to see this New Year's symbol from an absolutely different and new aspect.
Alakbarov thanked Leyla Aliyeva for supporting the project and announced another cultural project called "Samani", which will be held during Novruz holiday.
Afterwards a voting process was held during which the guests chose their favorite creations, and then the winners of the contest were announced: Faraj Rakhmanov became the first, Novruz Mammadov claimed second place, and Jamiddin Murtuzaliyev came out the third. The winners were awarded by diplomas and money prizes.
New Year is a magical holiday, being looked forward to by both adults and children. Regardless of one's religion, language or culture, people all around the world hope for good luck and happiness, and celebrate this holiday -every nation by their own traditions. However, the most important thing is that this holiday gives everyone hope for a bright future and fulfillment of one's cherished desires.
Being a symbol of the New Year, an elegantly decorated Christmas tree brings everyone together on this festive day. On this day, people forget their worries and concerns, and enjoy the festive and magical moments of the New Year's Eve.
Related News