24 June 2013 12:37 (UTC+04:00)
1 687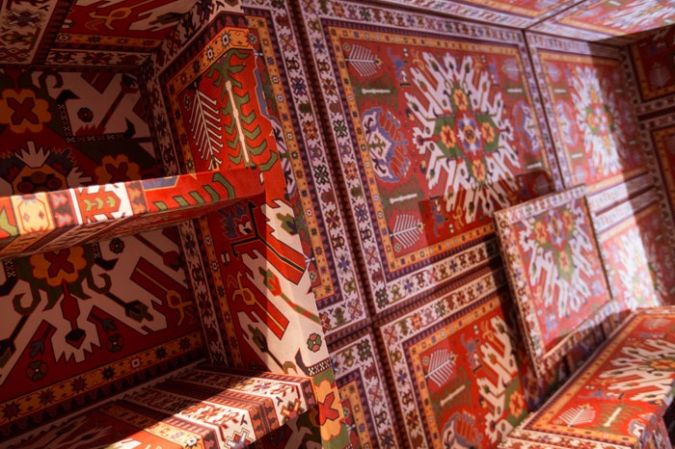 By Nigar Orujova
Artfetch.com, a website engaged in global promotion of contemporary art and its eminent representatives, as well as organization of artwork sales, has named the Azerbaijani pavilion at Venice Biennale among the five best pavilions, according to the Heydar Aliyev Foundation's website.
Official inauguration of the Azerbaijani hall took place with organizational support of the Foundation on May 31.
Venice Biennale is a major contemporary art exhibition that takes place once every two years in Venice, Italy. Azerbaijan participates in the Venice Biennale, which will run through November, for the fourth time.
The Azerbaijani hall is located at Lassay Palace dating back to the 14th century in Campo Santo Stefano. The hall this year is presented under the title "Ornaments".
A. J. Samuels, a writer in Los Angeles, says, "The non-Western pavilions at the Biennale struck me more: the work there seemed to make deeper connections, recognizing cultural imperialism (like the city itself), yet turning away from it in parts and surprises."
The author named the pavilions of Azerbaijan, Lithuania, Hungary, Estonia and Lebanon as the best five pavilions at the Biennale.
Among the works displayed at the Azerbaijani pavilion, Rashad Alakbarov's "Miniature" and Farid Rasulov's "Carpet Interior" have made a great impression upon the author.
Azerbaijan is represented by six artists - Butanay Haqverdiyev, Fakhriyya Mammadova, Farid Rasulov, Rashad Alakbarov, Sanan Alasgarov and Chingiz.
The opening of the Azerbaijani pavilion in Venice Biennale made a tremendous contribution to the popularization of the country`s culture and art in the world.
The 55th Venice Biennale features national pavilions from 88 countries, 10 of those for the first time. Though there is no official theme uniting the pavilions, several ideas are gaining currency in this edition, which runs through November 24. Artists are railing against greed and avarice, while also examining the results of collective actions. They are also pushing the boundaries, literally, of the physical world, altering the pavilions to incorporate the exhibit space into the art.
Related News