Azerbaijan, Hungary discuss agricultural cooperation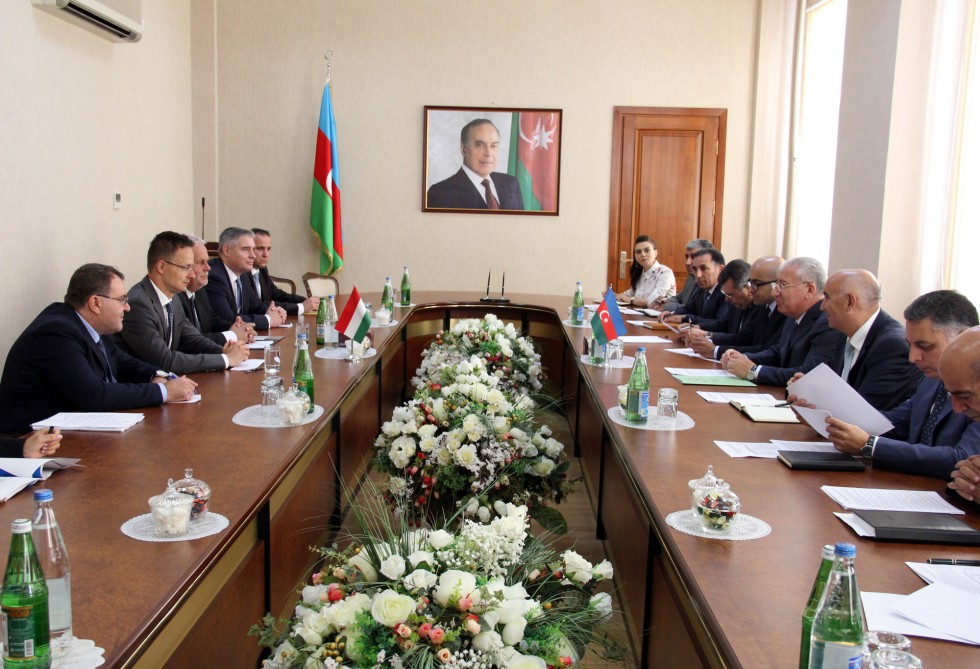 The Azerbaijani and Hungarian sides have discussed ways of developing agricultural cooperation as Agriculture Minister Heydar Asadov met with Hungarian Minister of Foreign Affairs and Trade Peter Szijjarto in Baku, Azertac reported.
Minister Asadov hailed economic relations between the two countries, further highlighting his May visit to Hungary in developing the bilateral relations in agricultural sphere.
Speaking at the event, Szijjarto praised "dynamic" development of economic relations between the two countries. He expressed confidence that agreements signed between the President of Azerbaijan and the Hungarian Prime Minister would contribute to the expansion of agricultural cooperation.
He highlighted the creation of a joint seed fund, Hungary`s technical assistance to sheep breeding, expansion of cooperation between agricultural research and educational institutions, import of cattle from Hungary to Azerbaijan.
Szijjarto also stressed the importance of cooperation in the sphere of food safety.
He invited the rector of Azerbaijan State Agricultural University to Hungary with the aim of developing relations in the fields of science and education.
The Hungarian delegation led by Szijjarto visited Azerbaijan to join the sixth meeting of the joint Intergovernmental Economic Cooperation Commission held on June 28.

As part of the two-day visit, the delegation held meetings with Foreign Minister Elmar Mammadyarov, Prime Minister Artur Rasizade and Executive Director of the State Oil Fund of the Republic of Azerbaijan (SOFAZ) Shahmar Movsumov.
Enjoying advantageous geographic location, Azerbaijan has every opportunity to increase export of high quality agro products, which are in great demand in neighboring countries.
The agricultural sector is important in Azerbaijan not only to increase export potential, but also to restore and protect the country's food security.
Moreover, Azerbaijan seeks to achieve an economy driven by the non-oil sector, but not petrodollars. That means putting more effort to develop local production and more support to agriculture, one of Azerbaijan's best non-oil sector development options.
The country achieved 6.6-percent growth in the volume of agricultural production in 2015.
---
Follow us on Twitter @AzerNewsAz