Azerbaijan Beekeepers Association talks beekeeping project in Jojug Marjanli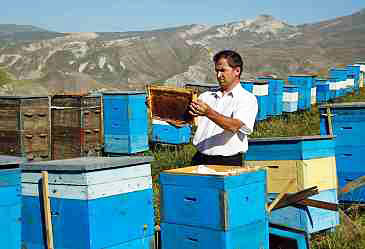 By Trend
The Azerbaijan Beekeepers Association will start to implement the project on restoration and development of beekeeping in the country's Jojug Marjanli village on July 27, Badraddin Hasratov, head of the Association, told Trend July 25.
"Beekeeping in this region has long-standing roots," Hasratov said. "The goal of the project is to restore beekeeping in Jojug Marjanli and achieve a significant increase in honey production."
He said the project will be implemented jointly with the Turkish Cooperation and Coordination Agency (TIKA).
"We selected 15 beekeepers, each of them will be provided with 10 bee colonies," Hasratov said.
"In general, there are opportunities for development of beekeeping in most districts of Azerbaijan," he said. "There are certain plans, but it is too early to talk about them."
In January-June 2018, Azerbaijan exported honey, as well as dairy products, eggs and other kinds of food products of animal origin worth $4.71 million and imported the products worth $66.45 million. Exports increased by 23.6 percent, imports - by 11.54 percent in January-June 2018 compared to January-June 2017.
---
Follow us on Twitter @AzerNewsAz