Southern Gas Corridor takes lead while Turkish Stream floats between obstacles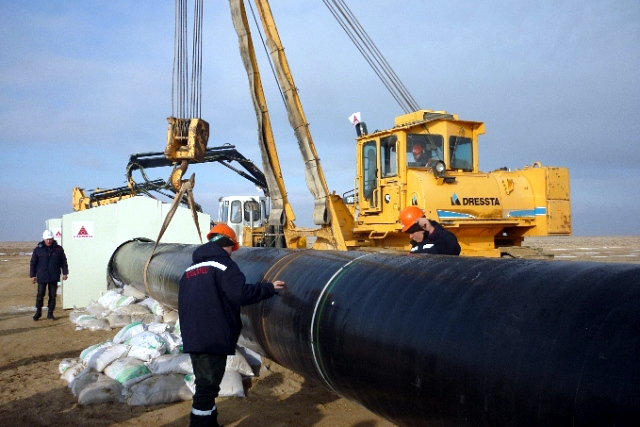 By Gulgiz Dadashova
The Southern Gas Corridor, designed to bring the Caspian gas to Europe, has taken the lead at a time when other projects are still waiting on concrete steps.
Turkey, an ambitious player able to alter the energy landscape of the region, seeks to acquire a share in the Trans-Adriatic Pipeline, which is a part to the SGC.
The acquisition of shares in the TAP project, seen as Europe's alternative to its reliance on Russian gas, is a historical opportunity for Turkey, and Ankara does not seem to want to miss this chance, a source in Turkish government told Trend.
The source added that currently, the issue is under consideration.
Earlier, commenting on a possible interest from Iran, TAP Head of Communications Lisa Givert told Trend that the pipeline project is open to new shareholders, including Iran.
"TAP is open to new shareholders, which can add strategic value to the project," Givert told reporters in the Azeri capital Baku.
Iran, which has recently reached a nuclear agreement with the P5+1, granting Tehran sanctions relief in exchange for curbs on its nuclear program, has repeatedly expressed willingness to export its gas to Europe. Iran's ambassador to Baku Mohsen Pak Ayeen had earlier said that the Islamic Republic may join TANAP, which as a part of the Southern Gas Corridor will connect to TAP at the Turkish-Greek border.
Recently, Norway's Statoil – which is a TAP partner alongside British BP, Azerbaijan's SOCAR, Belgium's Fluxys, Spain's Enagás and the Swiss-based Axpo – announced its intention to sell its 20-percent stake in the project.
The EU is eager to find new partners and associates. Brussels has long been trying to find new gas suppliers to quench its demand, but never before have officials been more intent on realizing an agreement on the ongoing Southern Gas Corridor (SGC) project, which began to materialize as a series of pipelines that will carry Azerbaijani supplies to Europe after the proposed backbone of the corridor, Nabucco, failed.
In view of Europe's plan to reduce its reliance on Russian gas and secure more volumes, the EU has accelerated its search and positioned the SGC as one of the most feasible projects to carry new natural gas to Europe.
"Azerbaijan is our reliable and strategic partner in the energy field, and we want to take this partnership further. One aim of the European energy union is to exclude the possibility of using gas as a threat. The conflict in Ukraine shows that such threats are still possible," European Council President Donald Tusk said during his Baku visit this week.
"This is why the EU is dedicated to diversifying our supplies. And Azerbaijan is a main partner in this endeavour. Today, we agreed to stand united on developing the Southern Gas Corridor – a project which is in our common strategic interest – and to make sure it is completed on time, whatever our competitors do."
In the wake of South Stream's cancellation in late 2014 amid objections from the European Commission, Moscow and Ankara announced their intention to build Turkish Stream, which was referred to by some as the competitor to the SGC.
However, there are a number of lingering issues that need to be resolved before this project can become a reality. First of all, there is a lack of infrastructure in the European territory of Turkey that would allow it to receive gas from an underwater pipeline and then to carry it to the Greek border.
Although, no precise document has been signed so far between Ankara and Moscow.
Russia expects to sign an intergovernmental agreement on the "Turkish Stream" after the formation of the Cabinet of Ministers of Turkey, Russian Prime Minister Dmitry Medvedev said in an interview with the Radio and Television of Slovenia.
However, the signing of any document seems to be prolonged as Turkey's political parties have not yet come to any decision. The ruling Justice and Development Party needs to form the government by August 23 under the legislation, or it will go for new parliament elections. This in turn will affect any talk on the Turkish Stream.
Additionally, the cost of the project is around $50-$60 billion, and this is too expensive given the economic crisis that the countries involved currently face. Also, a number of issues remain between Moscow and Brussels, being that Moscow also is keen on constructing this pipeline. No direct talks with the actual consumers have been held so far.
It would take many years for Russia to complete the Turkish Stream project. In the meantime, the Azerbaijani gas from the TAP pipeline would take priority in finding clients long before eventual Russian gas arrives to the same pipe.
Some 30 percent Southern Gas Corridor project has already been implemented, according to Rovnag Abdullayev, the head of Azerbaijan's state energy company SOCAR, German media outlets reported on July 21.
"Agreements with 162 suppliers from 23 countries totaling over 10 billion euros have already been signed. Currently, more than 9,500 people are working on the project. As part of the Shah Deniz-2 project, seven wells have been drilled while the construction of a compressor station in Georgia and pipe production is in full swing," he noted.
The 3,500-kilometer Southern Gas Corridor which would finally end Europe's dependence on a single pipeline was initially launched as part of the South Caucasus Pipeline Expansion, which will connect the Sangachal terminal with eastern Turkey through Georgia. It will link up with the SOCAR-led TANAP to be connected with a third pipeline TAP on the Turkish-Greek border.
--
Follow Gulgiz Dadashova on Twitter: @GulgizD
Follow us on Twitter @AzerNewsAz